People nowadays have a well-established habit of searching for everything online. They search for products, services, or other people. Every business that wants to be visible on the web must establish a solid online presence. Large enterprises, small businesses, non-profits, artists, or influencers must provide a way for people to find them on the web.
As a designer or developer, you are probably familiar with the struggles of those who need a website. Target audiences, requirements, and budgets can be all across the board. Also, the majority of businesses are small local companies. They don't have huge budgets and need fast and easy-to-use solutions. It is where website templates come to the rescue.
A website builder with an extensive library of templates is essential. If you want to create beautiful designs and implement them, TeleportHQ is the right tool for your goals. At TeleportHQ, we provide a low code AI-wired platform for easy website design and editing. You can register your free account today, start coding visually, and build and deploy your websites.
In this article we'll discuss website templates and why they are a powerful tool for building a web presence. We'll also look into artificial intelligence (AI) and its contribution to automating the design and coding work.
First, let's look at what website templates are and what makes them so valuable.
What are templates in web design?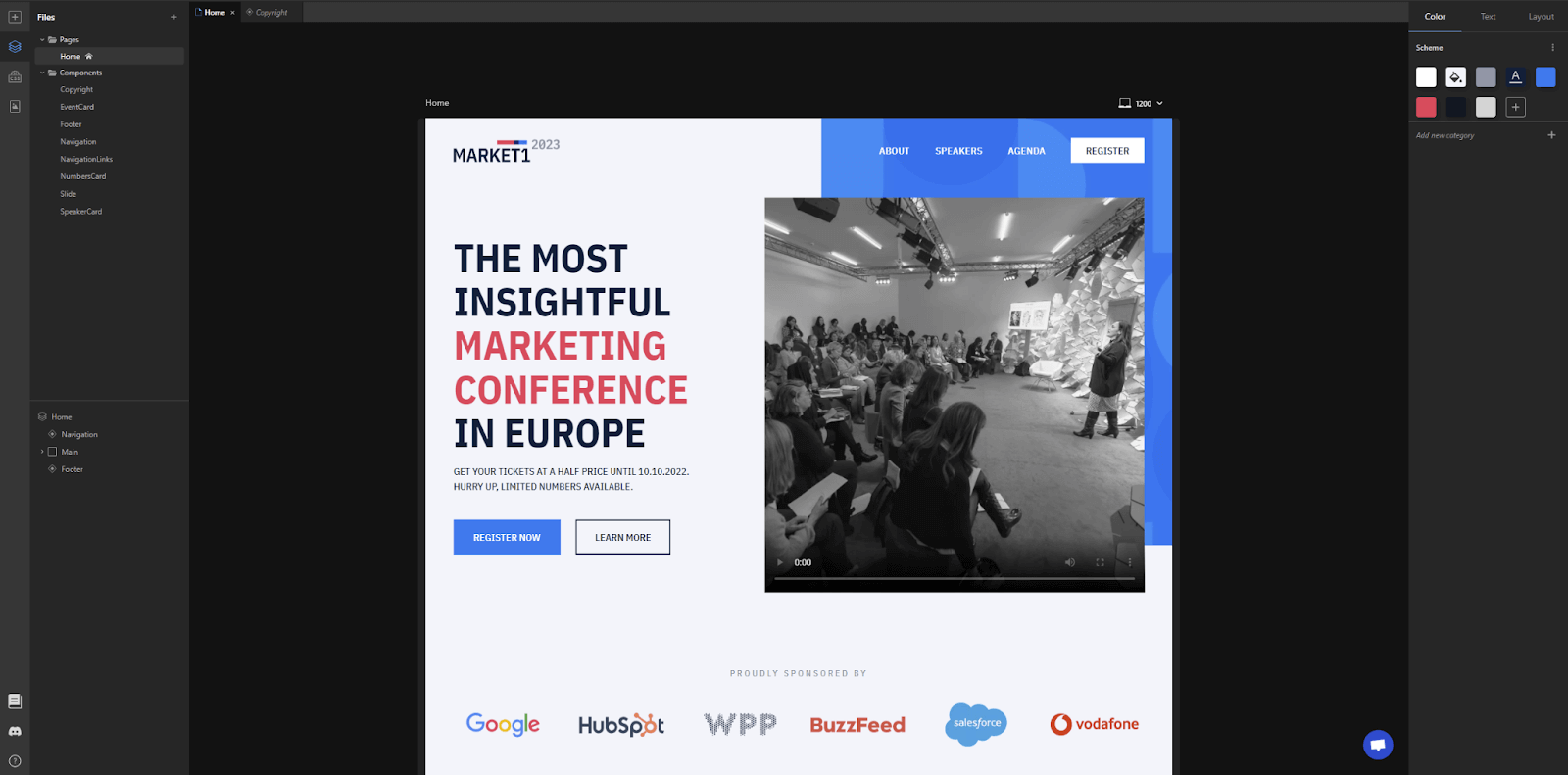 Website templates are fully designed web pages you can fill with content or customize according to your needs. They have a predefined layout and contain reusable elements you can adjust, delete or replace. Templates are a great starting point for users with little or no coding skills. They are high-fidelity products you can use whenever you need.
Those with more advanced design or programming skills can use templates to create custom designs. For instance, you can choose a template with a suitable layout and then tweak individual elements or adjust the color scheme, fonts, images, etc.
Online website builder apps, such as TeleportHQ, include templates in their pricing packages. With TeleportHQ, you can also create your templates with the power of AI.
Why do people use website templates?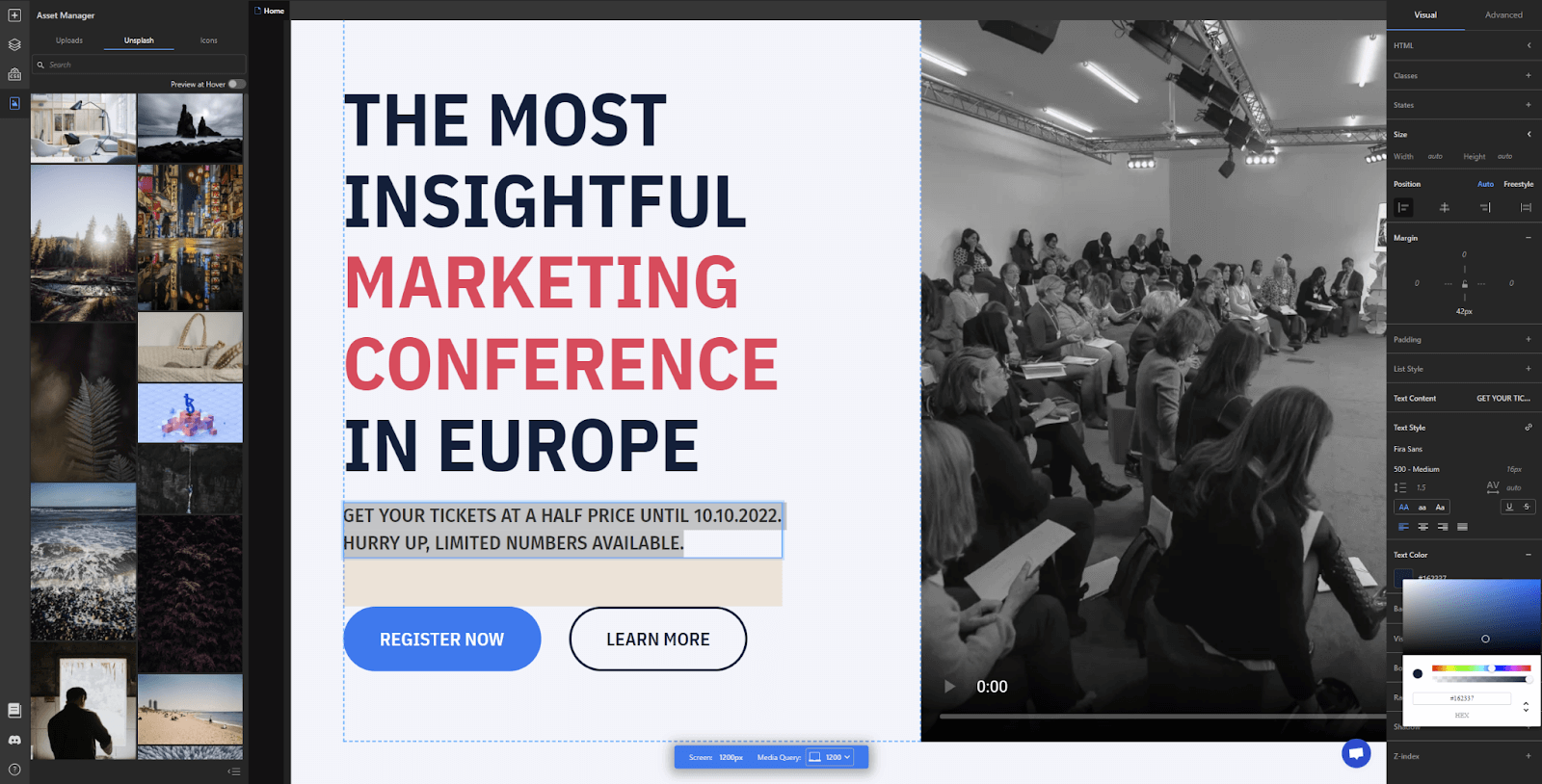 Website templates are there to help in three use cases:
People who don't have design or coding skills can use a website template in its original form and just pour in their content.
Designers and developers can use a ready-made template as a starting point for custom designs. It saves the time needed to design or build from scratch.
To scale up by reusing the same template with minimum effort for adjustments. When you make your template, it makes sense to reuse it for as many pages as possible.
As you can see, website templates have utility regardless of the user's level of expertise. It makes them a valuable resource that is either ready to use or easy to adjust, depending on the preferences.
What makes a good website template?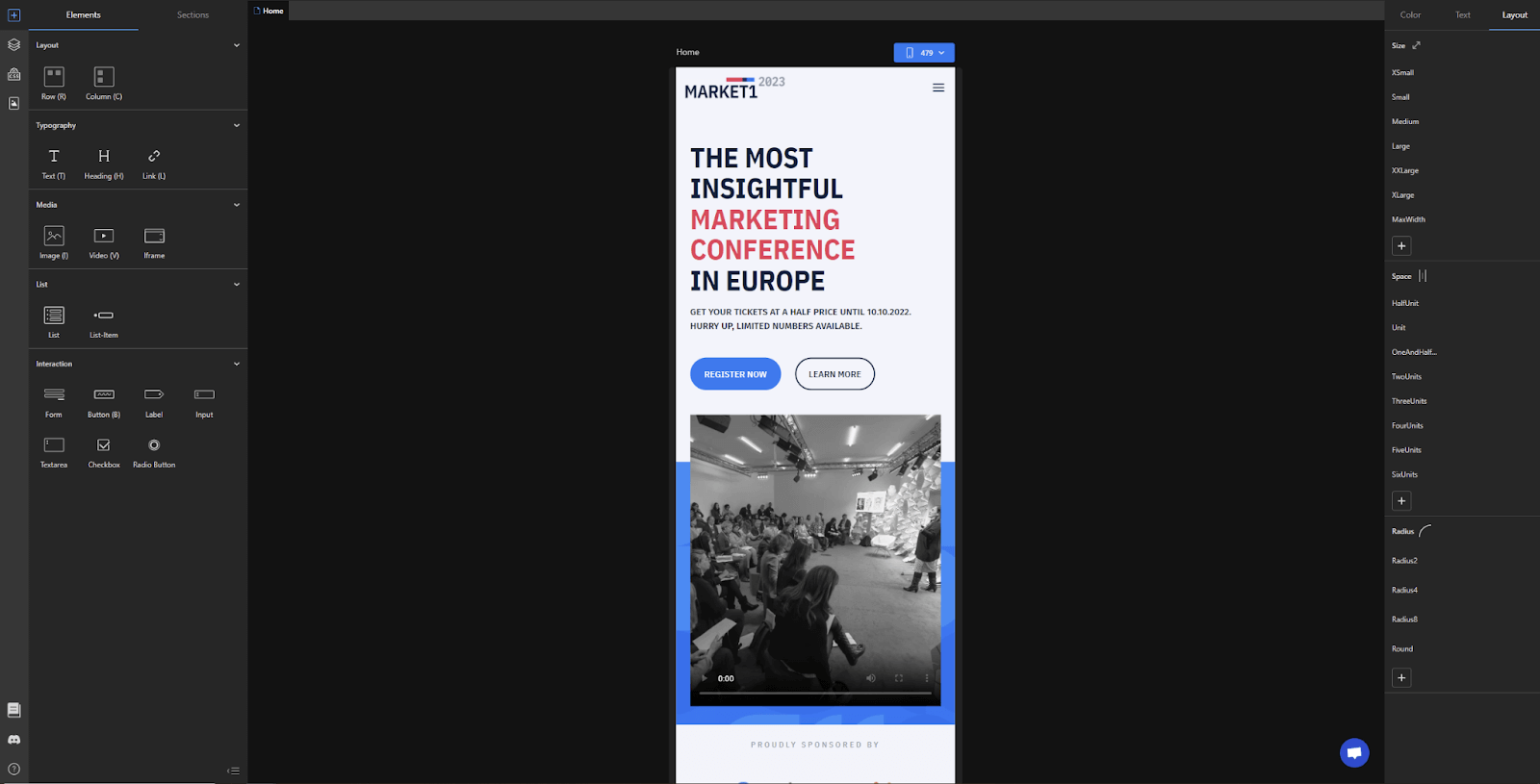 Web templates are everywhere. All modern website builder services offer extensive libraries of professionally made templates for all sorts of purposes. Below is the list of factors that make a functional website template.
Responsive design
Mobile devices are now the primary choice for users to go online. Desktop computers and tablets also have their fair share of users. Many people use more than one device. It makes responsive web design a must.
A fully responsive website template would easily fit all screen sizes. Keep in mind that some adjustments may be necessary depending on your content.
Customizable style and layout
Website templates are easy to use in their original form. To stand out, however, it's always a good idea to customize. Otherwise, your pages will have the same style and layout as the rest using the same template.
That said, website templates that allow the addition of elements and style adjustments are better than those with limited customization options. Technically every template is customizable if you have the necessary skills. Good templates, however, are made to allow easy adjustments even by non-designers.
Scalability
Ready web page layouts help web designers and developers to scale up quickly. Repetition and rhythm play an important role in design. Website owners want their content to be presented consistently. It makes sense to reuse the same template for pages with the same content type.
Website templates allow the scaling up of production after the design phase is complete. Minor adjustments may still be necessary, but having a preset template makes adding new pages quick and easy.
Ready for deployment
Website templates are not only designed. Professional web developers also code them. Once you fill in the text and images, the page is ready for deployment. It is another factor that speeds up production.
Aesthetic styles and layouts
Professional designers draw all templates. People make even the free ones with a solid understanding of layout and styling. Good website templates are made with the best practices to present the content in the best possible way. They are easy to navigate and pleasing to the eye.
Now that we know what templates are, how people use them, and why, it's time to discuss the advanced ways of creating them.
What is AI website design?
Computer perception is one of the fields of AI. For example, thanks to AI that hears and understands human speech, your phone can activate and respond to voice commands. Also, self-driving cars rely on AI trained to recognize objects visually, the same way people do.
At TeleportHQ, we used this technology to create a computer vision API trained to recognize and interpret specific objects. Our AI detects elements in hand-drawn wireframes allowing you to create websites using AI.
The main goal is to make the transfer from a low fidelity sketch to a high fidelity template fast and easy. With TeleportHQ digitizing your rough sketches and turning them into editable wireframes is a piece of cake. Then you can use our visual code editor to adjust your new template and prepare it for deployment.
Who can use AI to create website templates?
In theory, everyone can use AI in their template design process. AI assists people by automating specific tasks. AI is not some secret feature available only to selected individuals. Tech companies nowadays integrate AI and machine learning to make all sorts of products with high added value.
One of these tools is TeleportHQ – a free, browser-based, low code platform where you can create website designs and prototypes with minimum effort or special skills. We focus on visual coding backed up by AI capabilities to save time and automate tedious work.
You can generate code in real-time, invite teammates to collaborate, and export the code for different environments and frameworks. Also, with TeleportHQ, you can publish your site with only one click.
Professional designers and web developers can benefit from using an AI-powered platform. However, small publishers and content creators are welcome to try it too.
The skill requirements are pretty low, and people without coding experience wouldn't feel intimidated. Also, if you are stuck and need help, our Discord community is there to help. In other words, anyone is welcome to give teleportHQ a try.
Why use AI to create website templates?
Technology makes our lives easier. It allows better productivity through automation. People welcome everything that brings down entry barriers and enables them to achieve more with less effort and lower cost.
With AI, people who have fewer resources can create quality responsive templates. Whether you need a homepage, landing page, online portfolio, or article template for your blog, you can now use a free website builder to make it happen.
Professionals can save time and effort by automating tedious tasks necessary for their process. It allows them to spend more time brainstorming design ideas. If you can speed up the drawing of a digital wireframe, this would free time for thinking about new features for your page.
The benefits of using AI to create website templates
As we mentioned before, automation is always a good thing. Nobody would complain about higher productivity. Every technology that allows getting results with less effort is welcome. Here are the advantages of using AI to make your website template:
It speeds up the design and development process for your template
It completes time-consuming tasks instead of you
It allows non-professionals to get creative and work on their ideas
It helps businesses with fewer resources to get close to professional results
When used for its purpose, AI is a great asset, but it has some disadvantages. Check the following paragraph to learn about the drawbacks you should be aware of.
The drawbacks of creating a websites template with AI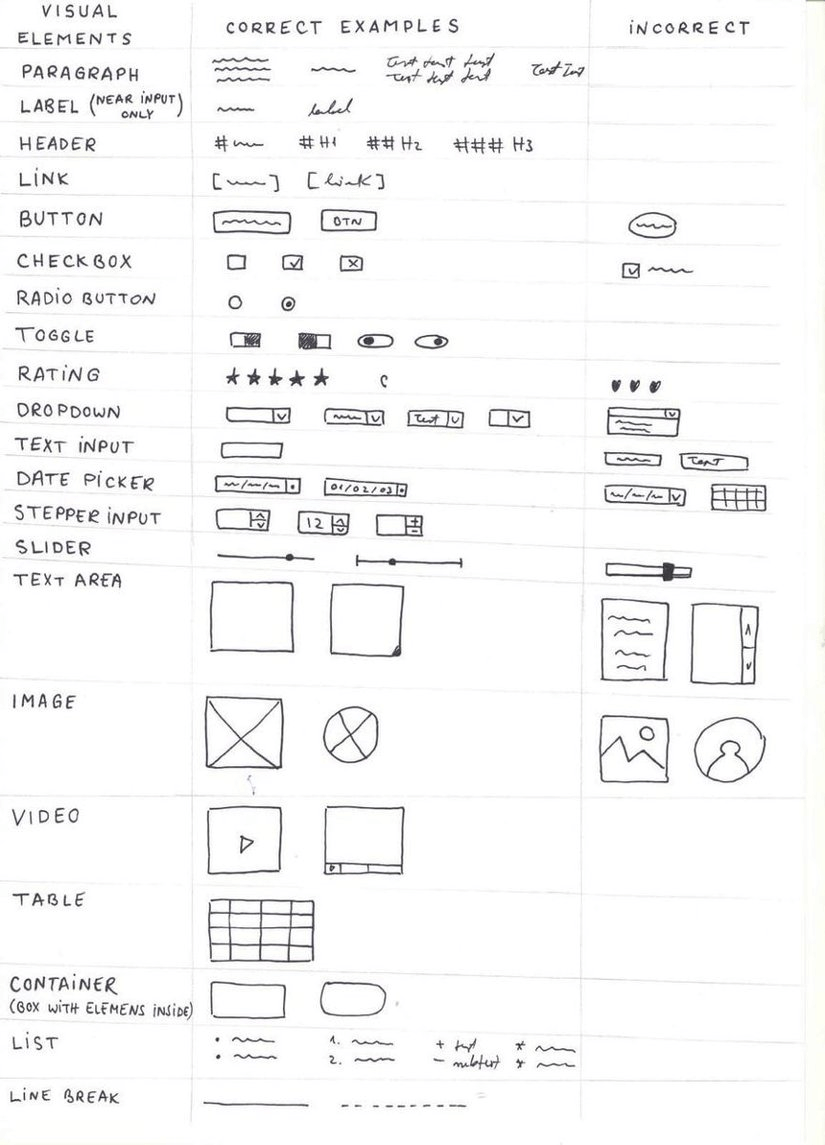 No matter how much we praise AI, it is still not perfect, and you shouldn't expect miracles. Here are the main drawbacks of using AI to make your website template:
AI can work on a limited number of tasks
It helps only for static website templates
Specific AI might be hard to understand by non-professionals
TeleportHQ vision API is trained to recognize hand-drawn objects based on a convention. If you deviate from the standard shapes the API recognizes, it won't read your sketches correctly. It would jam the process of digitizing your low-fidelity wireframes.
Users must be familiar with the wireframe editor guidelines and use them consistently on their paper sketches.
Also, those who need a WordPress site shouldn't use TeleportHQ. WordPress themes are dynamic, and our platform creates static website templates.
How to create a web page template with TeleportHQ?
There are six main steps for creating template designs with TeleportHQ:
Draw your low fidelity wireframe on paper
Take a photo of your paper sketch with your phone
Drag and drop the image, then import with a single click
Edit your template
Place your content
Export the code of your ready page template
We listed some critical actions in any of these phases in the table below.
Is AI for creating website templates the future?
While AI can be trained to recognize objects visually, it is still not good enough to make decisions or make high-fidelity products. Therefore, it has an assistive role and adds much value. However, for the time being, complex tasks are still for humans only.
Design website templates: Key takeaway
Website templates are an excellent resource for your web projects. They are easy to scale up and customize. Whether you build an entire website or want to add pages to an existing one, you can always rely on quality templates.
As a designer, you may also want to draw templates from scratch and then import them for fine-tuning into a free website builder. It is where TeleportHQ comes to the rescue with its vision API – an AI trained to read your paper sketches and turn them into digital wireframes.
With TeleportHQ, you can harness the power of AI to speed up your design process and make quality website templates. Start by creating your free account today.
FAQ about website templates
Here we listed some common questions about website template creation. Check the answers below for easy tips and hints.
How to make a website template for free?
You can make a website template even if you don't have coding experience. Free website builder apps like TeleportHQ allow you to create website templates with the power of AI. You can code visually for faster results and prepare ready-to-use deployable web pages. All you need to do is create your free account to get started.
How do I create a content template for my website?
There's more than one way to do that. You can use a website builder like TeleportHQ for visual HTML and CSS editing. Also, you can use Figma to design the template and then import your design to TeleportHQ with a Figma plugin. Last, you can draw a wireframe by hand and then use our vision API to import a photo of your paper sketch to TeleportHQ for further editing.
Is selling design templates for websites profitable?
Selling website templates can be a source of passive income or a main gig. To make it a primary source of income, you must have the capacity to produce quality templates at a high pace. It is much easier for design teams than it is for individual designers. Also, there are a lot of free templates out there, meaning that paid ones must add substantial value.
Can i sell website templates?
Yes, you can make templates to sell online. Many website builder apps allow visual coding without any programming experience. Nevertheless, many users still prefer picking a ready template instead of making their own from scratch. If you are a designer, selling templates can be a source of passive income.