You know how important apps and websites are in our daily lives, whether for personal or business use.
Building them became accessible to everyone, thanks to the front-end tools that turned the once complicated process into dragging and dropping visual blocks into an editor to make everything easy.
Tech people and citizen developers are now able to create complex apps or websites without effort and without spending huge amounts of money on development.
How is all of this possible?
By using low-code or no-code platforms that help you make innovative apps with writing little to no code. They allow you to grow or enhance your business operations.
Let's see what these useful front-end design tools are, with a few examples for each to help you make a choice and learn how to build front-end web apps faster.
A. What Are Low-code and No-code Platforms?
Before going through the list of low-code and no-code platforms, let's understand what exactly these front-end design tools are. If you need more info about them before making a decision, you can study more about low-code vs. no-code platforms with their advantages, disadvantages, and differences and pick the best option for your project.
1. Low-code platforms
Low-code platforms are visual-based with drag-and-drop elements into an intuitive editor. They are a mix of no-code with manual coding, which makes them more flexible—they can be used by both people with zero coding skills and developers who wish to speed up their work.
Even if the low-code environment is more familiar for developers, there's a short learning curve for those without experience to learn how to use most low-code platforms.
Low-code app development is a perfect option for creating stand-alone mobile and web apps that you wish to integrate with other systems and data sources.
2. No-code platforms
The definition is in their name: no-code platforms don't require any coding skills. They are also visual-based, with a drag-and-drop feature, but the difference between them and low-code platforms is that they don't use hand-coding at all.
While this is excellent news for anyone with zero coding skills, developers can't integrate any of their lines of code for deeper personalization.
No-code platforms are similar to prebuilt blogging platforms, containing everything the user needs to build a website or app.
You should keep in mind that you can use no-code only for front-end instances, so if you were wondering how to build front-end web apps faster, this is a great solution.
B. Benefits of Low-code or No-code Platforms
There are different advantages and disadvantages when it comes to low-code vs. no-code platforms, and you should definitely take a deeper dive into the subject before choosing one.
One can say that because of their complexity and ease of use, the benefits of low-code platforms are greater, but in the end, you should consider the needs of your personal or business use.
In this article, we're going to see the general benefits both of these front-end tools can bring you.
Increased productivity. With all the automation features that characterize these platforms, development teams and individuals alike can significantly reduce the time spent on building apps or websites.
Easy to use. With a low-code or no-code platform, anyone can help in the development stage of a project. All they need is a good idea.
Reduced costs. You'll spend less money during the creative process and on the apps or website maintenance.
Faster deployments. With low-code and no-code platforms, you or your organization can develop an application way faster than through traditional methods.
Built-in responsiveness. With these visual web development tools, you can build apps that work across multiple platforms and devices.
Valuable time-saver. The popularity of these platforms doesn't mean that traditional development is gone. They are the perfect opportunity to ease the work of all developers who need to build apps faster but also need to focus on hand-coding for very complex situations where these platforms are not an option.
Now that you know what these visual front-end development platforms are, let's skim through a list of low-code and no-code platform examples to make your pick.
5 Examples of Low-code Platforms
1. TeleportHQ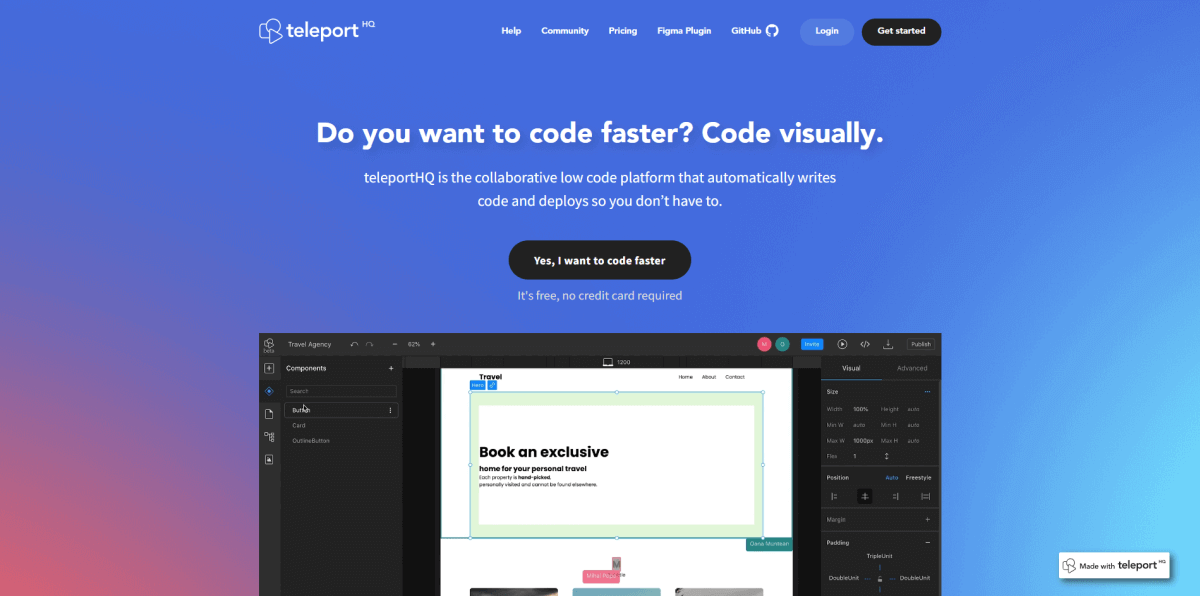 TeleportHQ is a collaborative low-code platform that automatically writes code as you're creating your static website. Use the templates, the drag-and-drop editor, the powerful Figma plugin integration, and many other elements and components to build professional websites.
The platform also takes care of deploying and hosting your project.
Export your code to one of the nine different JS frameworks and host it on your platform.
2. Quickbase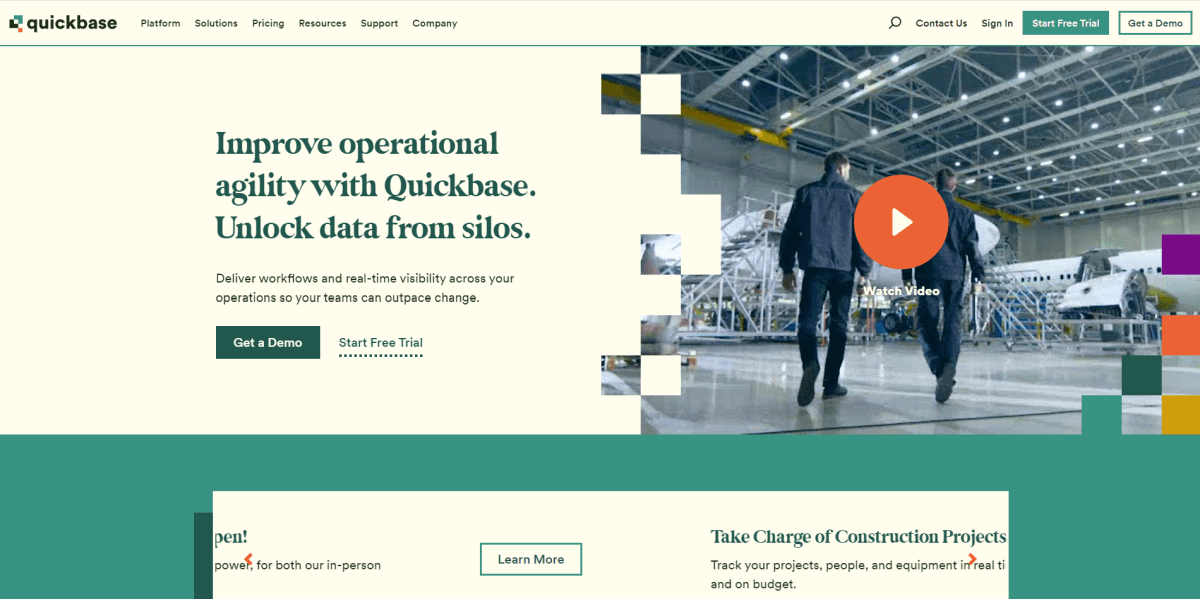 Quickbase is a low-code front-end tool that helps companies by building a bridge between businesses and developers to empower them to create a secure and sustainable ecosystem of applications.
Rapidly connect data, integrate your systems in real-time, and control automated workflows within one low-code platform that helps you create fast and make changes in real-time.
The platform offers many solutions, including process improvement, supply chain, CRM & sales management, Human Resources, and more.
3. Mendix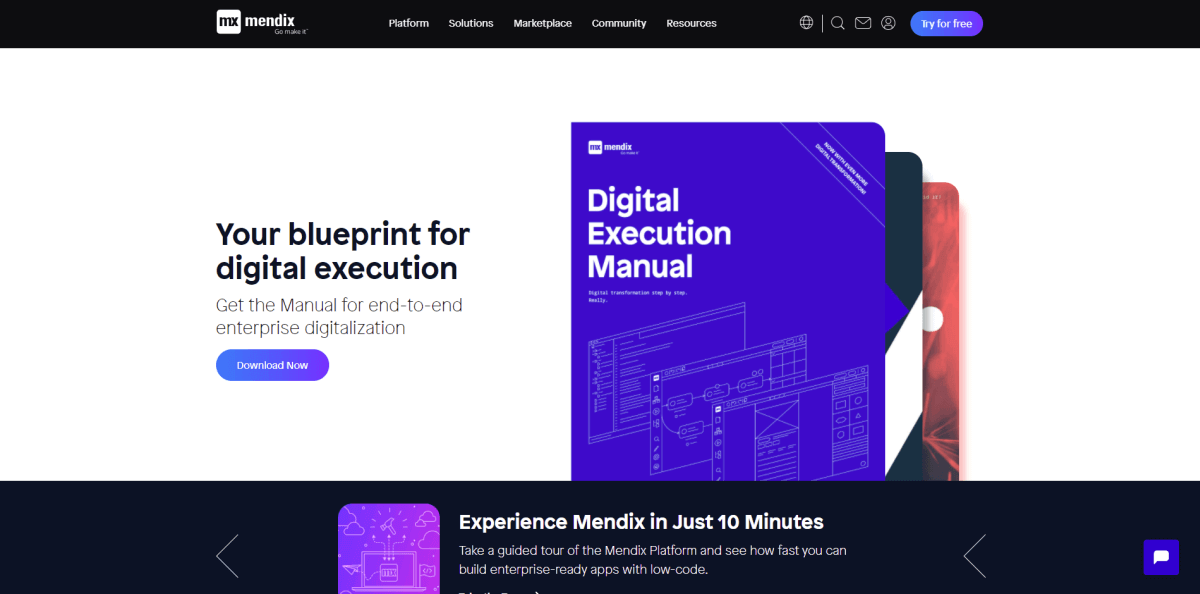 Mendix is a low-code platform specializing in enterprise development that any business can use to enhance its operations without any complex code involved.
Create apps for various industries such as financial services, banking, insurance, retail, and many others using an intuitive visual front-end development.
Mendix is perfect for developers, enterprise architects, and citizen developers.
4. Visual LANSA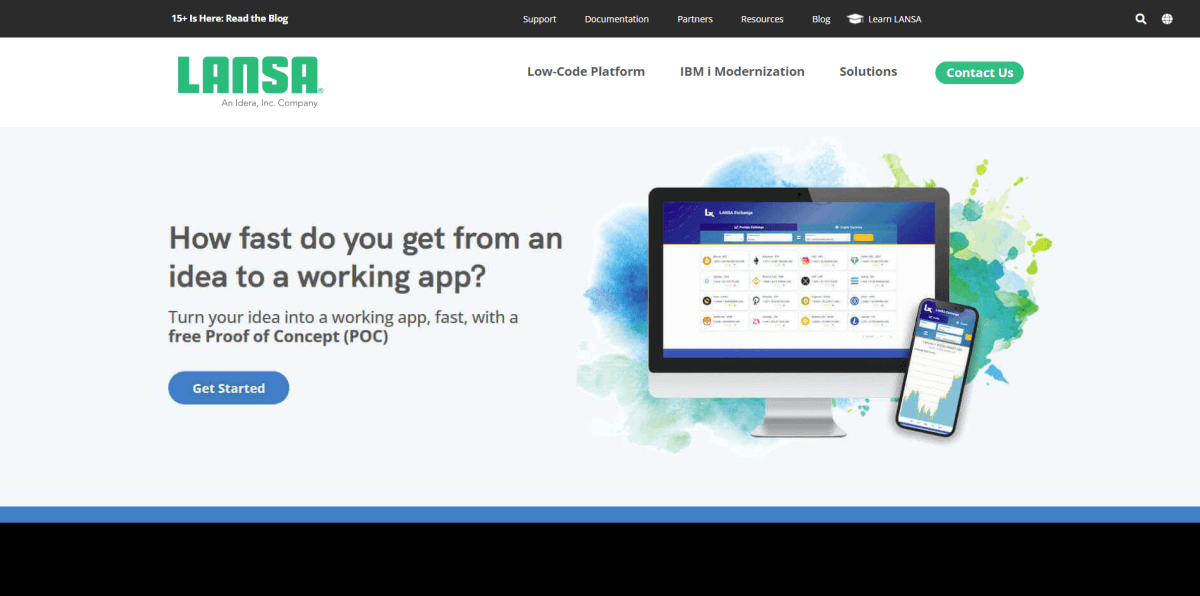 Build faster and integrate anything with your app using Visual Lansa. This low-code front-end tool combines traditional coding and visual creation in one IDE to empower developers in creating desktop and web applications.
With this platform, developers benefit from low-code app development and have full control over the entire process, which is simplified for faster production.
5. Zoho Creator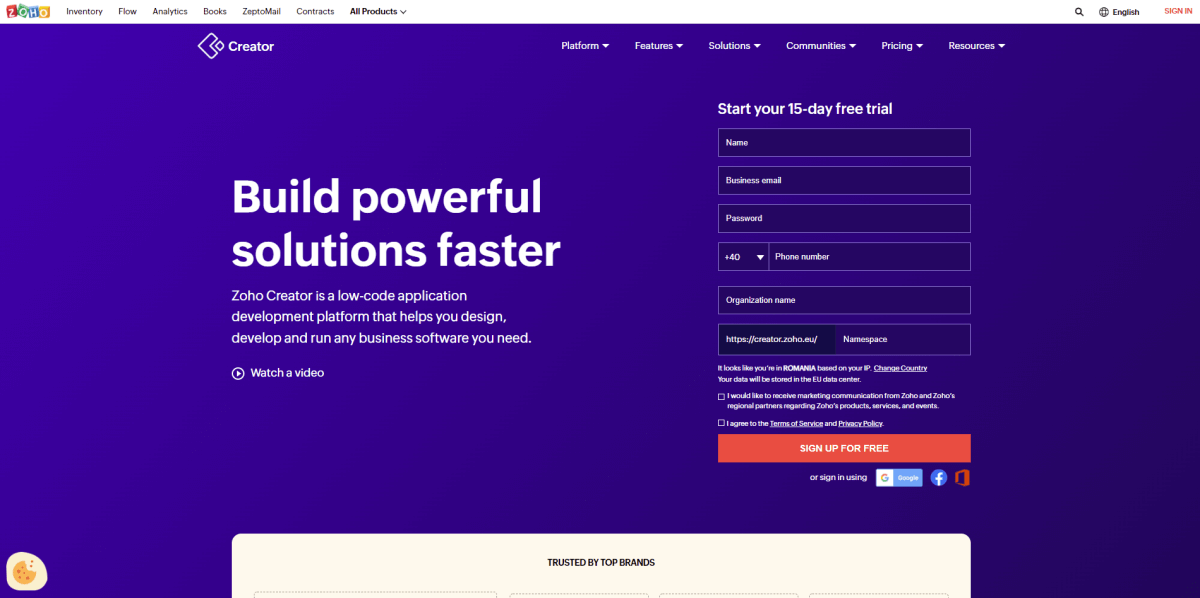 With Zoho Creator, you can design and develop any business software you want. Create anything that is responsive on multiple devices and see how they perform using the platform's BI & Analytics Creator.
With this low-code platform, you will also benefit from over 550 prebuilt integrations and a CRM for automated processes to keep up with your clients' needs.
5 Examples of No-code Platforms
1. Appy Pie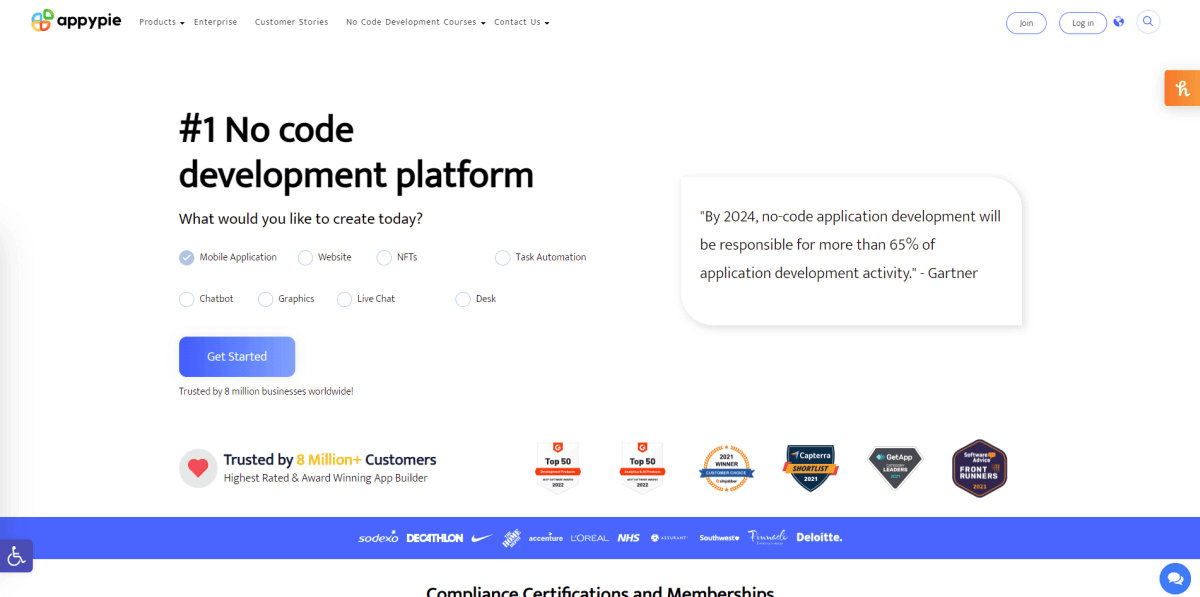 Appy Pi is a no-code UI builder platform that enables the fast creation of apps and websites with advanced features helping you to have a powerful online presence.
You can also create artworks, logos, and banners without any need for coding skills and without spending too much money creating them.
2. Bubble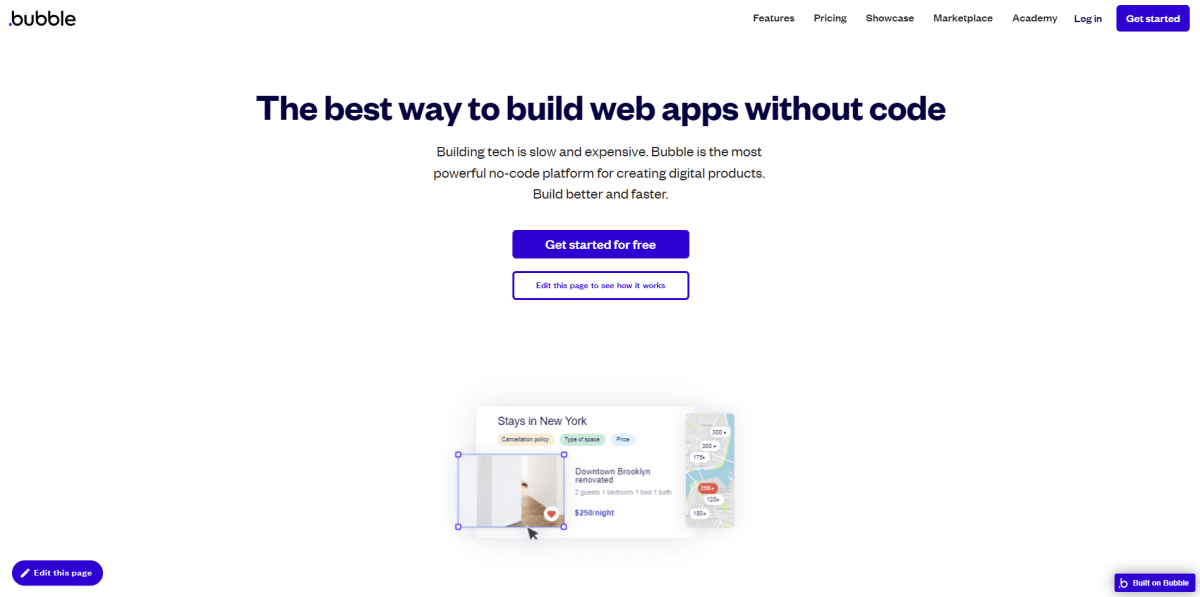 Take advantage of no-code UI development and let bubble help you build a website in mere minutes.
Easily create digital products for desktop and mobile web browsers that look flawless without having any coding skills. Use their drag-and-drop editor and the dynamic content and let the platform take care of deploying and hosting your project.
3. Quixy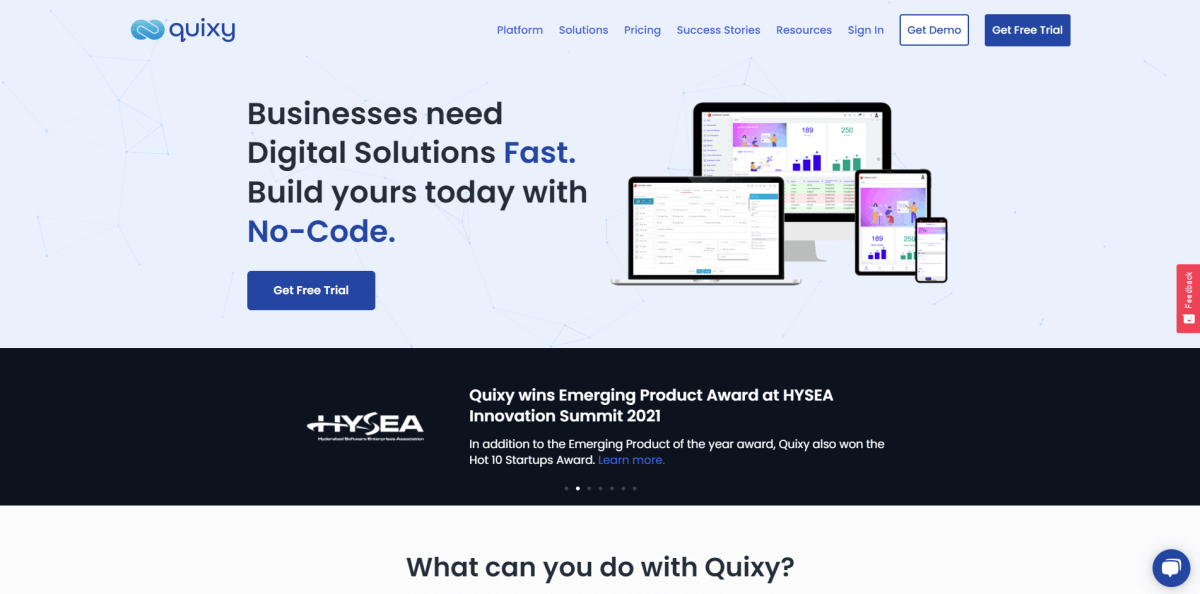 Create custom applications and digital workspaces using Quixy as a no-code front-end design tool. It also has a business process management integrated so that you can continuously analyze and optimize your processes.
Quixy provides other pre-built solutions for a variety of use cases such as CRM, Project Management, HRMS, Travel and Expense Management, and others.
4. Caspio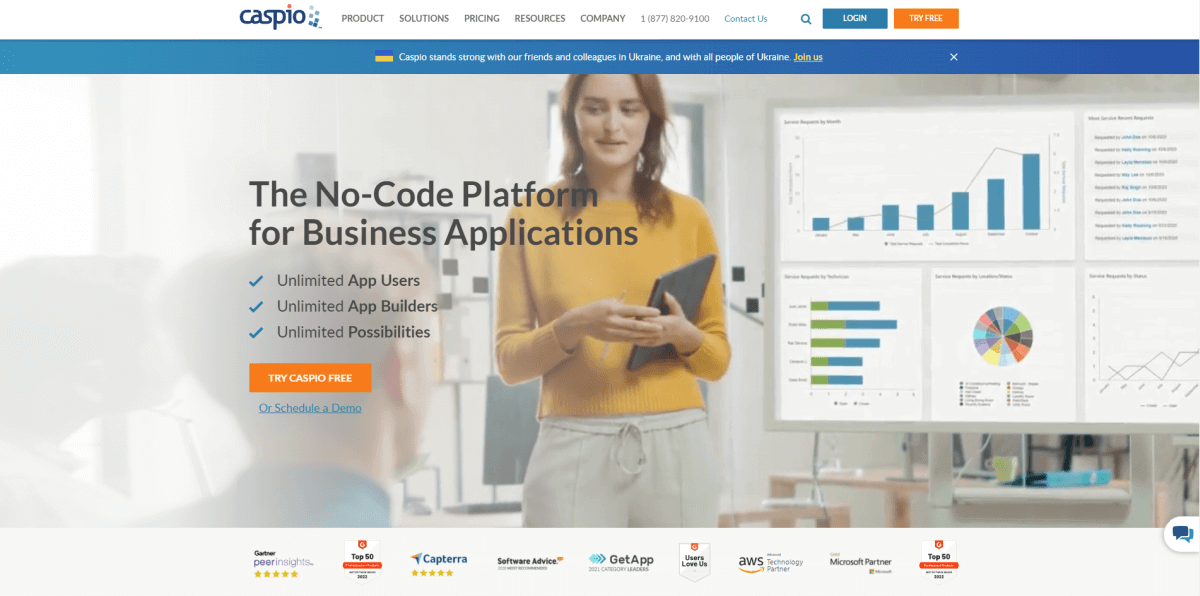 Caspio is a visual app builder using an integrated online database and unlimited user model that helps you build secure and scalable cloud apps.
Use their easy visual front-end development and create according to your business needs even without zero coding experience.
5. AppSheet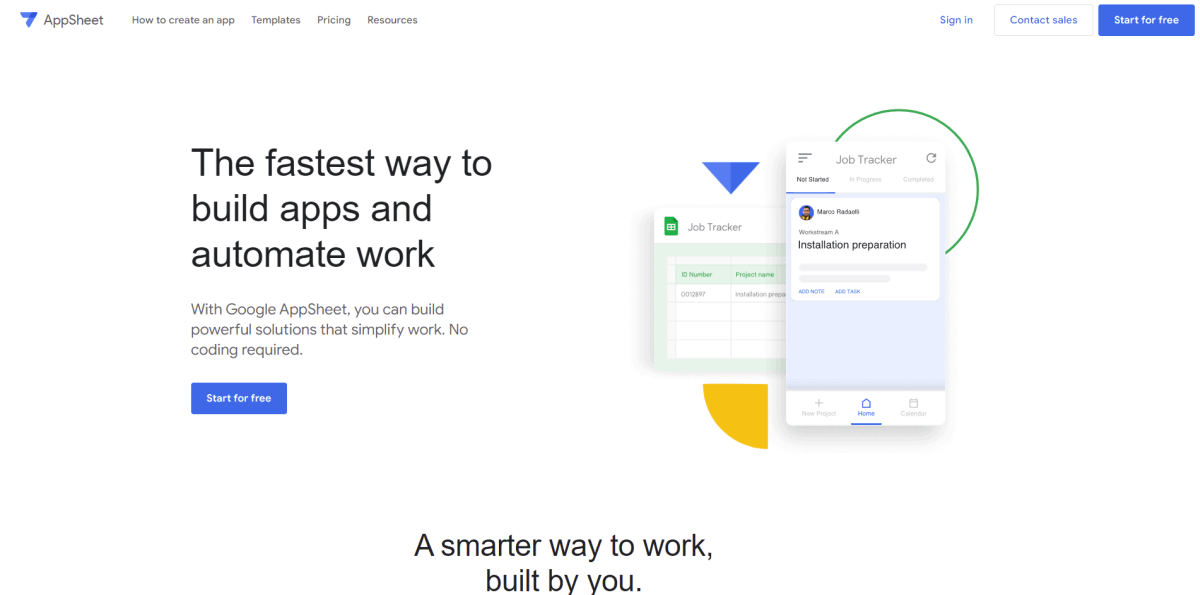 With AppSheet, you can explore a no-code front-end design tool and build mobile and desktop apps customized to your business requirements.
Design your project using the no-code UI builder, then integrate it with Gmail, Sheets, Spaces, or other third-party apps. You can also use it for automated tasks like sending emails, notifications, or SMS.
Conclusion
Hopefully, this article will guide your next steps into choosing the right platform for your personal or business use.
But before taking your pick, make sure you analyze your project's needs carefully and understand not just how to build front-end web apps faster but also how to keep your project relevant in the future.
Only in this way, you'll go for the best front-end tool.