Gartner estimates that by 2025, 70% of new applications developed by enterprises will use no-code or low-code technologies, which means an increase from 2020, where the percentage said 25%.
This low-code no-code trend was not as popular a few years back, just as the study mentioned above noticed.
Companies had two options: they could build their own systems in-house or hire an external team to do the work for them.
But this can get pretty expensive.
However, the third option, which is a low-code or no-code platform, gained momentum and showed a lot of potential in the last few years. This alternative helps teams implement a project quickly and at a much lower cost.
Still, there are some confusions when choosing between low-code and no-code platforms.
That's why I will tackle everything about the two in this article to help you decide which is the best option for your next project.
A. What Is No-Code?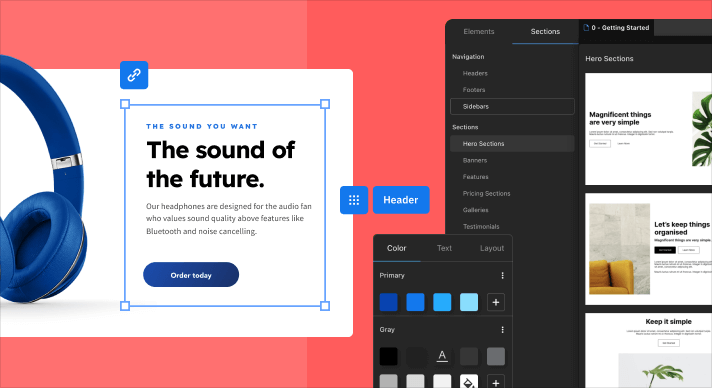 As the name suggests, no-code platforms don't require any coding skills. It's a visual-based, drag-and-drop platform with a "plug and play" experience. This means people without an IT background can create functional apps without any learning curve.
Similar to prebuilt blogging platforms, everything the user needs to build a website or app is already integrated into the no-code platform.
This makes the no-code platform easier to use than the low-code, as we'll see later.
But there are also a few downfalls to it.
Let's see the advantages and disadvantages of this visual-based platform.
1. No-code advantages
For someone who wishes to build something basic fast and easy, here are other benefits a no-code has:
It's great for simplistic yet functional websites and apps that need fast implementation;
It can be used by "citizen developers" (i.e., those without any language programming skills);
Anyone can create a website without asking for help from the IT department;
It can be an excellent way for non-technical people to design prototypes to take to the IT department for full development.
Although the simplicity of the no-code platform is what attracts most users, it can also be its biggest downfall if it's implemented for a product that needs considerable adjustments in the future.
That's why this type of platform is best used to help teams with specific needs and limited outcomes.
This takes us to the no-code disadvantages part.
2. No-code disadvantages
If everything mentioned above sounds good and you want to start working straight away, keep in mind that these platforms have a few shortcomings.
The framework is pretty much determined by its developers, which leaves little to no space for customization;
If you choose this type of platform, there is a risk that you won't be able to scale it and integrate your project into the enterprise's architecture;
The no-code option can result in shadow IT, leading to other problems such as security concerns, compliance issues, apps that use more resources than necessary, and higher costs;
Usually, no-code platforms require deployment to their public cloud and don't allow deployment to a private or on-premise infrastructure;
The platform focuses on efficiency and not enough on user experience, as it lacks customization;
It can't be integrated with legacy systems;
Because they are stand-alone apps, it can be challenging to manage data structures such as customer records or GDPR at high quality.
B. What Is Low-Code?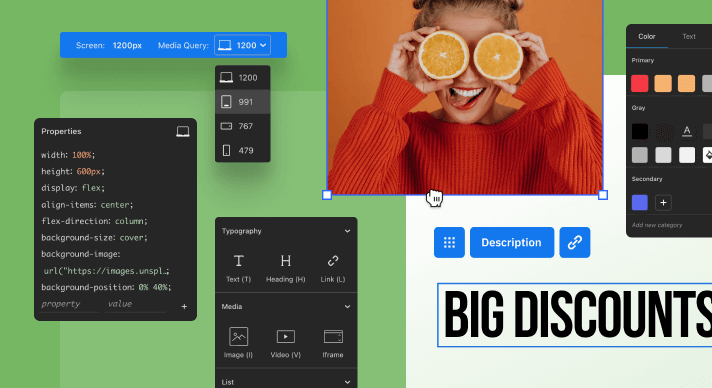 Low-code platforms are a mix of no-code with manual coding, which is what makes them more flexible—they can be used by both people with zero coding skills and developers who wish to speed up their work.
I'll explain both use cases.
Low-code platforms can be visual-based, with drag-and-drop elements, making it possible for people with no programming experience to build an app or a website. Although the low-code environment is more familiar for developers, even those without experience can learn how to use most low-code platforms.
It's also great for developers who want to work on a project but don't want to start it from scratch. They can use an open-source low-code platform that lays down the basics for them, then continue with the manual coding for further implementation.
Regardless of their skill levels, low-code is a quicker way for developers to design applications with little hand-code writing by dragging and dropping elements and visual blocks that run on existing code into their project space.
Now, here's where both scenarios meet.
For example, a platform such as TeleportHQ allows everyone to create a website or app and then export it as clean code that can be sent to a developer to scale the project.
When it comes to low code vs. traditional development, we have to mention that a low-code platform requires a minimum of hand-coding from a developer.
This means they can work smarter and faster by focusing on a small percentage of coding they have to write, as most of it is already there. This can be the difference that makes a product fail-proof.
But there are other advantages that low-code platforms bring you.
1. Low-code advantages
If you're already taken by what low-code platforms provide you, there's more.
Low-code platforms favor scalable architectures together with open APIs;
They allow on-premises, fast and easy deployment;
Developers can test the quality of the future app or website;
With low-code, you have built-in security processes, data integration, and cross-platform support, which brings a higher ROI;
With low-code platforms, developers can build more complex applications for multiple use-cases by extending the platforms' code with their own;
Most low-code platforms create a perfect bridge between IT requirements and business goals, acting like real-time code collaboration spaces where cross departments can work together;
Easy integration with legacy systems;
With low-code platforms, you can pay attention to customer experience because the prebuilt platform's templates help you optimize the app or website to be as user-friendly as possible while sticking to brand requirements;
Even though it's not as simple as no-code platforms, they still rely on simplicity.
2. Low-code disadvantages
As with the no-code, low-code platforms have a few drawbacks as well.
For a person who has never written a line of code in their life, it can be a bit difficult at first to create something in a low-code platform, but they can pick up pretty fast on things, even without knowing how to code;
This one's not really a disadvantage, but a bit more complicated step. If you're not a developer and wish to extend your project to more complex business cases, you will need an experienced technology person who could assist in getting custom hand-coded components developed.
Low-code vs. traditional development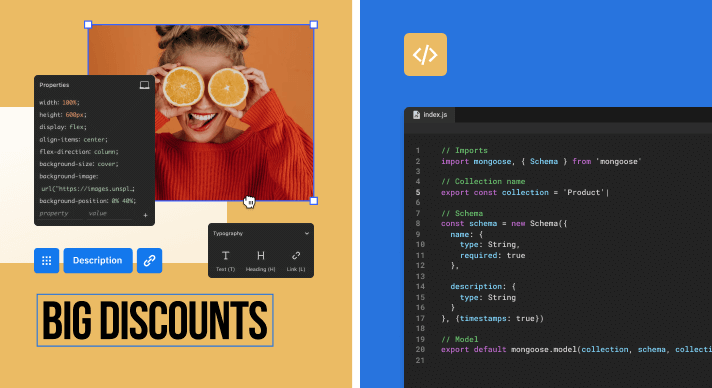 Because a low-code platform can imply a bit of hand-coding, it's better to draw a clear distinction between low-code vs. traditional development.
The biggest difference between them is that while low-code platforms lay down all the elements and visual blocks so that developers of every skill level and sometimes citizen developers could use it to get a head start with little coding implied (if any), traditional development is all about hand-coding.
With traditional development, people need advanced coding skills and knowledge of multiple web frameworks.
Another difference is the speed of development and live debugging.
With low-code platforms, you can develop working apps in days and even hours, and the app is error-free, while traditional development could take up to a few months. This is because everything gets built from scratch, and there's also the need for testing everything along the way.
Compared to an app developed traditionally, a low-code one may have some limitations in performance, scalability and integrability with other systems, and customization.
On the other hand, a low-code app requires minimal resources in maintenance and updates, while for traditional code-written apps, you need a dedicated team to update the code each time.
According to a study by Appian and Forrester Consulting, 84% of enterprises use low-code development. As the study says, these companies improved their existing IT capabilities, innovated products and services, and became more agile with a greater speed-to-market.
But let's get back to our main topic.
C. So, Low-Code or No-Code Platforms?
When you're starting a pros and cons list for low-code vs. no-code, you should know that, first of all, both are development platforms that give you the freedom to build software applications without writing code.
This means you won't have to ask for help from a developer, as almost anyone can handle these visual-based platforms.
Both platforms help professional and non-professional developers to reach greater efficiency, and they're both in the category of Platform as a Service (PaaS).
But these are their only resemblances.
In the low-code vs. no-code arguments, the latter may be too basic for complex solutions, and the low-code platforms require a learning curve for non-professional developers.
Moreover, as I mentioned previously, no-code doesn't support integration with a business architecture, which means you'll be considered shadow IT in your organization.
On the other hand, a low-code platform gives you greater flexibility and the possibility to be helped by other IT professionals. Still, you need to be sure you'll get that help when the situation arises.
Large IT companies can control the system development by picking a low-code or no-code tool their organization can support. Sometimes, the best option for these big companies is to have a mix of citizen developers that build the interface with IT professionals that take it to a more scalable programming language.
So, low-code is a good option for developing stand-alone mobile and web apps that will be integrated with other systems and data sources, while you should only use no-code tools for front-end instances.
But, there's more to it than just pure technical arguments.
Ultimately, you need to analyze your business needs and see which one is the right option for you and how you can align those needs with what your clients want and use.
When choosing a solution between the two, you should think not only about which one will deliver your app faster. Instead, pick the platform that combines visual-based development with the right solution for you for the future.
Is TeleportHQ a Low-Code or No-Code Platform?
The short answer is that it's a low-code platform.
But with TeleportHQ, you can have the best of both worlds, as it works as a no-code platform for those who will rely on the visual blocks when building their website or app, but it can most certainly be used as a low-code platform as well.
In fact, the tech-savvy can benefit from various tools and features that enhance the platform to work as a powerful yet stress-free low-code platform.
You can use it as an effective website builder, a static site generator, and a collaboration platform where you can create a responsive web design and then export it as clean code.
Conclusion
If you want to build your project without using traditional programming, you should carefully analyze your business and your clients' needs to see where you stand in this low-code, no-code talk.
Then, you can perform research to see which low-code or no-code platform is right for you.
Keep in mind that if you go low-code, you can test TeleportHQ for free to discover its features and capabilities.