Low-code development is gaining more and more popularity because this technology helps developers and those with limited coding experience to build apps and websites.
Here are just a few compelling stats that show how important low-code development is.
So many businesses adopted and will adopt this technology thanks to the benefits of low-code, which we'll discuss in this article.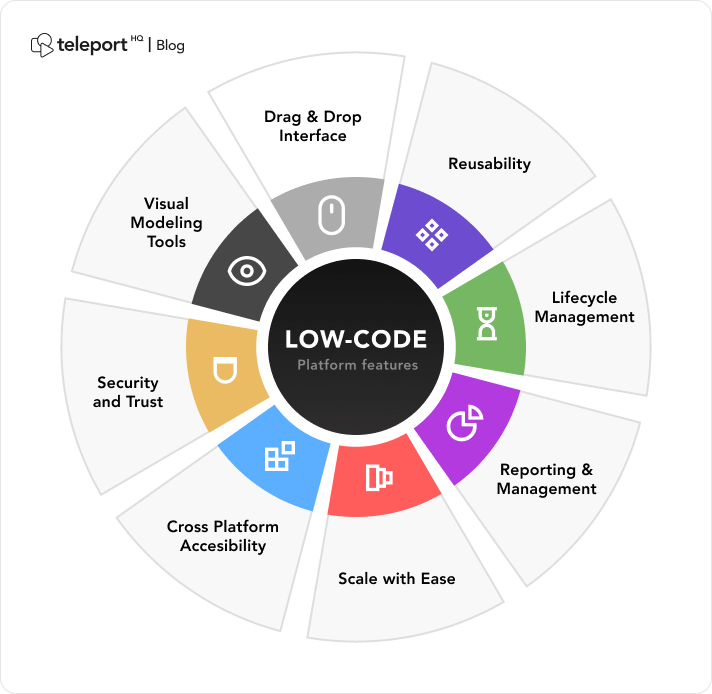 But first, let's define low code development.
A. What is Low-Code?
Low-code is a visual approach to create software development faster. Low-code solutions are packed with building blocks that tech and non-tech users can assemble into workflows and applications.
Because a low-code editor is based on visual characteristics, users can automate the creation process and step away from hand-coding. They can also switch to the traditional hand-coding and adopt it only when they want to.
B. Why Is Low-code Important?
Any brand or business that wants to be trustworthy and reliable needs a professional app, website, or both.
Since there are many existing brands and more and more new ones that need a digital presence, there's also an increase of requests in the IT departments that need to build those apps and websites.
Given the situation, relying strictly on custom scripts may be difficult and time-consuming for both tech departments and the companies that wait for the projects to be ready.
This is why many companies and individuals have adopted low-code platforms that provide visual editors and reusable components that users can drag and drop into the low-code editor for rapid development.
Low-code development allows IT departments to quickly build apps without spending too much time writing and testing new scripts and helps tech individuals who don't have specialized knowledge of every tool or technology involved in a set of processes.
This means every IT person can build applications from start to finish.
C. Benefits of Low-code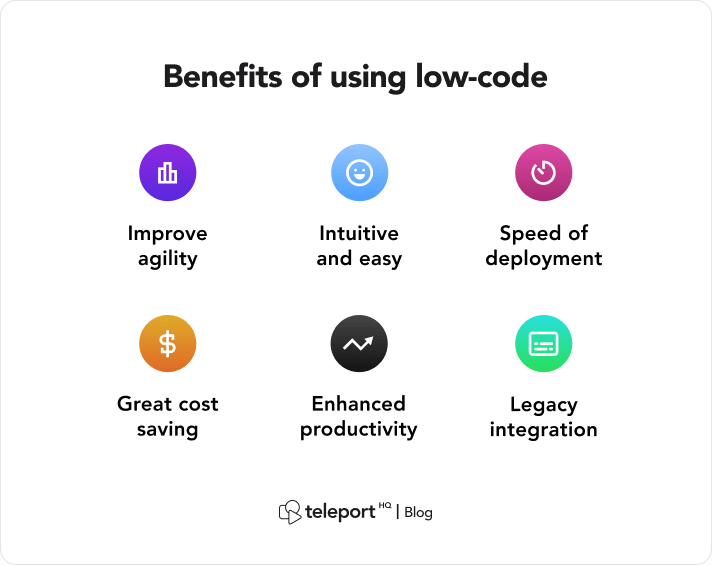 Low-code capabilities help both business users who wish to create an app regardless of their skill level of coding and developers who need to automate the development process and replace manual coding with a drag-and-drop editor to reduce the building time.
Companies can quickly adapt to fast-changing business requirements and conditions with low-code software development.
Here are the benefits low-code development provides to an organization:
1. Fast development for any business
Besides helping you build any project really fast, most low-code platforms allow you to create projects that are scalable and allow integrations with important vendors.
Moreover, it helps you use APIs and turn your lines of code into reusable building blocks. All of these increase productivity and accelerate the development process so that every business can keep up with all the market and client demands.
The low-code editors help you create optimized apps so that businesses can respond to their clients' way of consuming digital information, which can be on their smartphones or laptops.
2. Lower costs
Adopting low-code software development will save any business or startup lots of money. The IT department can use a low-code platform to build something that otherwise would need many hours of research, hand-coding, and testing.
3. No need for advanced programming skills
Anyone can assemble a functional website, regardless of their job background. And this is a huge help to anyone who wants to keep up with how fast the online world is changing and how personalized all the demands are.
You no longer need expert coders by using low-code solutions, but developers can also enjoy a fast development process.
This also means that besides the accelerated production process, the traditional organizational boundaries are no longer stiff, and cross departments can work better.
This leads us to the next benefit.
4. Increased productivity and connectivity across teams
Any business can find a low-code platform where they can centralize their IT needs and that it's also approved by the IT department, so no app or website would turn into a project difficult or impossible to handle.
This means businesses can create their own applications even without help from developers.
But the technical department can help whenever it's needed.
Low-code software connects departments and bridges the gap between any business and an IT department.
By eliminating complex code, you allow every member of the company to come up with prototypes and even ready-made websites and apps created in a low-code platform.
5. Automation for all processes
A project starts from a business need.
Since low-code platforms work based on automated processes helped by essential tools and features like the editor, templates, layouts, and other elements that the platform offers, a website or app will be ready in no time.
Also, prebuilt integrations and API openness make it possible to automate any digital business process.
6. Agile prototyping
Among the benefits of low-code is that it allows anyone to create prototype solutions for the same projects fast. The final results can be compared, analyzed, and tested to see which one is the best option for the company.
Once a decision is made, the project can be sent to development for scaling and integration with other solutions.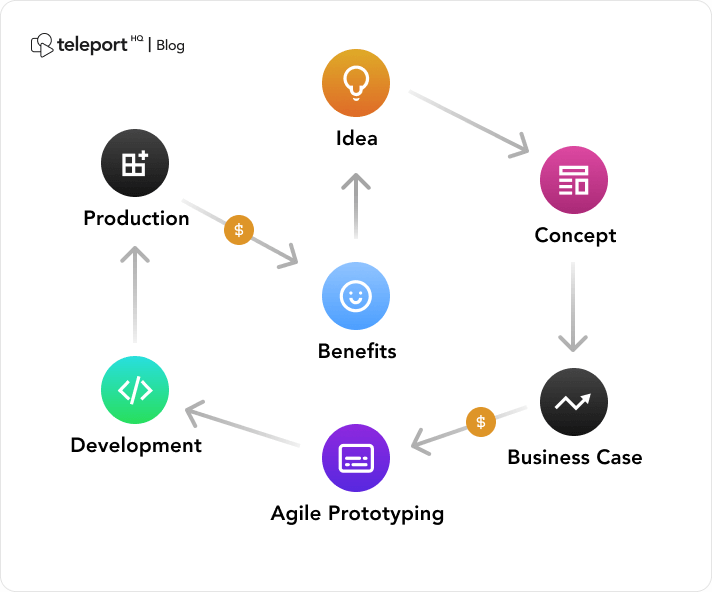 7. Fewer maintenance needs
A low-code solution removes time-consuming tasks from day-to-day development. Moreover, since the blocks, layouts, and components are ready-made and you can place them using a drag-and-drop low-code editor, there are significantly fewer bugs you have to take care of.
This leaves room for teams to come up with valuable ideas that improve the company.
8. No more shadow IT
Because the development process usually takes too long, many prefer to create their own apps without IT's approval. This ends up as shadow IT, where tech departments can't help anymore because it can be really difficult or impossible to integrate the app into a business' architecture.
With low-code development, and especially a low-code editor approved by the IT department, your company won't end up having this problem.
9. More time for creative ideas
A big project can take a lot of everyone's time, especially the IT department that has to build and test everything.
This can lead to a lot of pressure, extra working hours, or missed deadlines, on top of the fact they don't have enough time to come up with something unique and deeply personalized.
With low-code capabilities, tech and non-tech people can build their projects faster, which means they have plenty of time to focus on their next important task and stay ahead of deadlines.
10. The possibility for legacy integration
Low-code software development brings another important benefit: it allows the integration of legacy mainframe systems.
In this way, you won't have to worry about your project being left outside without the possibility of scaling it.
11. Quick iterations
Low-code development platforms provide all the necessary tools so that developers can iterate and edit the business' existing processes.
In this way, it's easier to have all the documentation and revision history of the project so that anyone can understand everything quickly. Furthermore, the implementation of a similar project can be a breeze for anyone.
12. Improved customer experience
The benefits of low-code platforms help not only the IT departments and those creating the website or app, but also the users by offering them a better customer experience.
This is thanks to the low-code platform that allows faster production, which leaves plenty of time for any organization to perform market research and understand the customer's needs and the rapid implementation of the website or app.
13. Easily changeable
Low-code solutions also help make the necessary changes and adapt any website or app to the required needs.
This can be accomplished without complicated hand-coding—you just enter the low-code editor from the platform you're working with and make all the changes visually.
D. Low-code Development & Existing Scripts
A low-code platform is here to help anyone who needs an automated process for fast and high-quality deployments.
However, this doesn't mean you have to replace scripts unless that's why you're choosing a low-code editor.
But scripts which are already written are reliable and effective, offering IT departments a foundation that can be improved with low-code platforms.
E. Low-Code vs. No-Code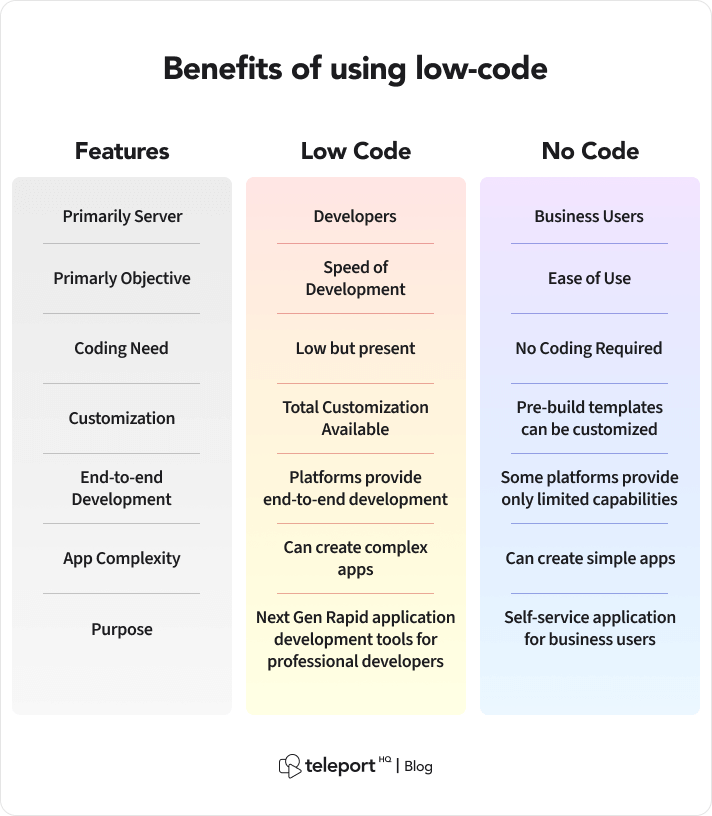 The terms low-code and no-code platforms are often used interchangeably, but while they both operate as PaaS, there are some essential differences that need to be pointed out.
Both are visual development platforms that help professional and non-professional developers reach greater efficiency and build software applications without writing code.
But when you have to choose between low-code vs. no-code, you have to think about what kind of project you're building.
Here are a few key takeaways to help you draw a clearer picture.
1. Low-code platforms
Are more complex with a drag-and-drop editor.
Offer automated tools and features but also provide a scripting environment and enable IT to integrate new or existing code.
Allow customization.
Are scalable.
Support integration with other architectures.
Can be operated by tech and non-tech people.
Build a bridge among departments as they favor designer to developer handoff and allow any department to work together with developers to build interfaces.
Low-code is a good option for developing stand-alone mobile and web apps that will be integrated with other systems and data sources.
2. No-code platforms
Are more basic but still allow creating functional projects.
Are very easy to use, without any learning curve needed, allowing citizen developers to create their own websites and apps.
Provide all the tools and features necessary to design processes without having to write custom scripts.
Provide only prebuilt actions.
Are better for those who don't have any coding skills.
Are great for non-technical people to design prototypes to take to the IT department for full development.
Have their framework already determined, which leaves little to no room for customization.
Are not scalable.
Don't support integration with a business' architecture, and if it's not approved at a company level, you'll be considered shadow IT.
Should only be used for front-end instances.
Can't be integrated with legacy systems.
Once you know all the technical aspects of these two platforms, you can decide which one is the right option for your project, business, and, ultimately, your customers.
When choosing a solution between the two, you have to consider not only the production and deployment speed, but try to see the big picture and choose the one that will help you and your clients in the future.
Conclusion
Now that you know what low code development is, together with its many benefits, you can also go ahead to TeleportHQ and start a free trial to discover all the benefits in action. Enjoy the features that speed up your building process and create your next static website or app with our platform.