First impressions matter. Consumers base their opinion of your business on their initial thoughts, which is where your website plays an important role. According to research, 94% of first impressions come from your site design.
Web design has become critical as customers demand visually appealing, user-friendly, responsive websites without usability issues. It means that web designers have little time to get visitors' attention and need the help of web design software tools to make this happen.
Platforms like our TeleportHQ are there to help you attract attention in just a few seconds. Our solution offers free static website templates you can edit and style according to your needs. You can create static web pages or entire sites regardless of your skill levels. Start designing now!
In today's blog post, we will provide you with valuable information about website design tools and share our ultimate list of the ten best web design tools you can start testing today. Before the evaluation, let's start with the basics.
What are website design tools?
Image source: GoodFirms
Web design tools are software programs that create compelling, eye-catching, responsive websites. The best web design tools are the ones that provide advanced features such as
Drag and drop editor – it helps you drag and drop pre-made web design elements to build your web pages and doesn't require advanced coding knowledge.
Design templates – they include pre-made designs you can adjust to your needs. These templates are suitable for beginners and advanced users.
Fonts and graphics – help you speed up the process and create the website you envisioned.
Now, let's take a closer look at the graphic design tools.
What is a graphic design tool?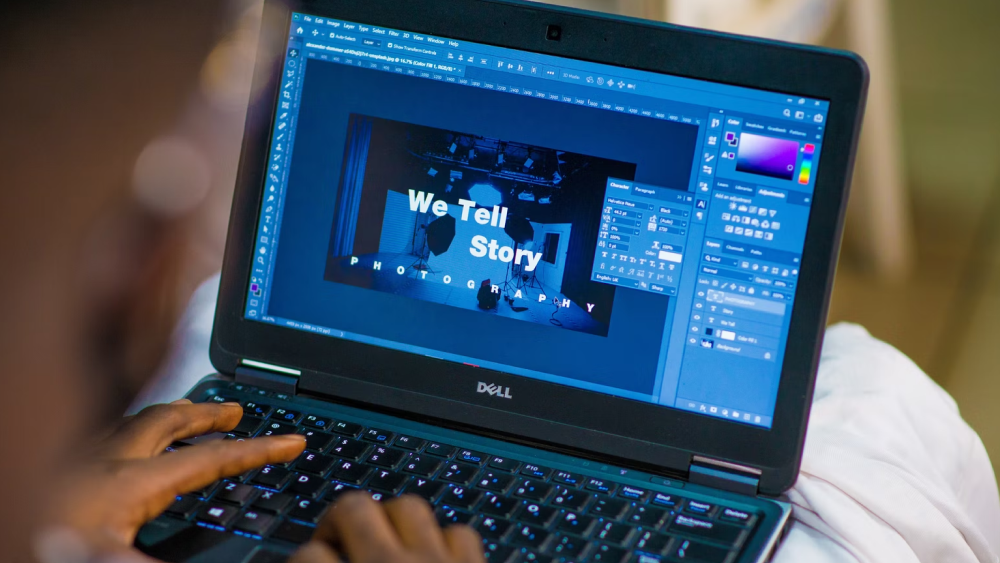 A graphic design tool helps you combine words and visuals to bring your ideas to life and communicate intended messages to your target audience.
The best graphic design tools include features such as
Font integrations
Transparent backgrounds
Image manipulation options
Studies show that consistent graphic design can increase a company's sales by a third. Let's explain how these tools differ from website design tools.
What is the difference between web design tools and tools for graphic design?
Graphic designers create online ads, brochures, or blog post images you can usually see while browsing the web. They help marketers convey ideas to their target audience through digital assets.
On the other hand, web designers design a website's visual look and feel. They focus on the user experience, navigation, website speed, responsiveness, image resolution, file size, and UI. Basic knowledge of HTML and CSS comes in handy here.
To conclude, web design tools offer features that help designers create visually appealing websites. Graphic design tools have features that enable designers to produce eye-catching visuals.
Why should you use website layout design tools?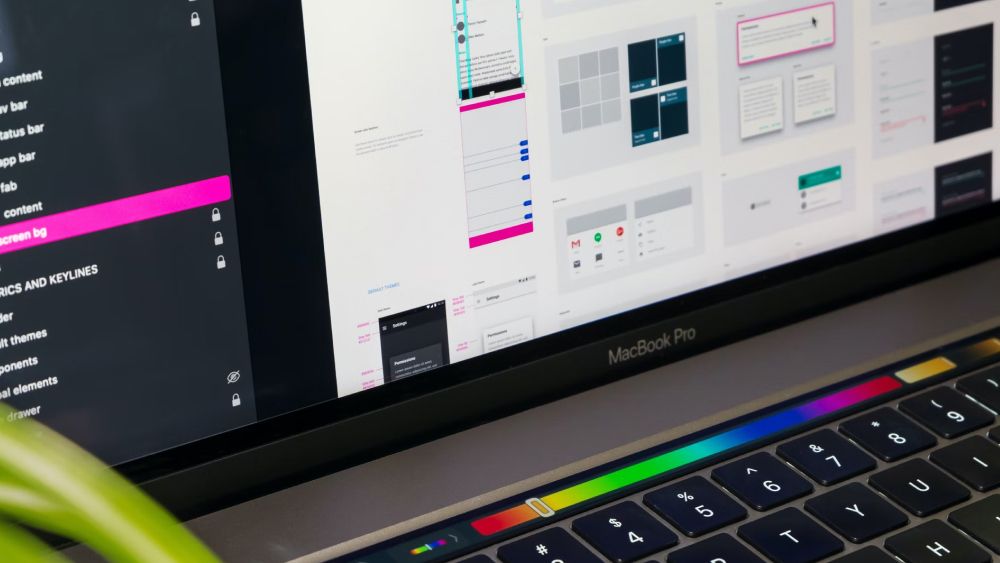 More than 70% of companies invest in design to stand out from their competition, while almost 40% of visitors will leave your website if the layout is unattractive. Web design software tools help you achieve your product goals.
Here are some other reasons to use website layout design tools:
They help you reduce customer frustration, improve the user experience and attract new customers.
They make your content more organized. Platforms like our TeleportHQ enable you to import all your assets and create your front-end content libraries.
They help you create a user-friendly interface with improved content readability, predictability, and optimal user flow.
It all got us thinking—what do studies say about web design software tools? Let's see!
What stats show us about web developer design tools
Here is what statistics show about the importance of web design software tools:
Why should a web designer use platforms with a website builder, drag-and-drop interface, collaboration tools, and much more? Find the answer in the next section.
What are the benefits of using a visual design tool?
A visual design tool is now a must for professional designers. You should invest in one as well because of the following reasons:
Accessibility – you only need to sign in to access the available features
A variety of management options – there is no fear of losing your designs. You can download or share your files with colleagues.
Time-saving – default features enable you to drag and drop or combine elements in just a few clicks. You can also use the pre-made templates.
Supports different designs – a visual design tool allows you to create different designs. It includes web designs, presentations, social media posts, and more.
We've got you covered if you're worried about the drawbacks. Continue reading to learn more.
What are the drawbacks of using designer tools?
Web designers have their work cut out for them. Their web design must impress their marketing team, colleagues, and customers. Anything that can make this process easier is good in their book.
So, if you ask us, web design software tools have no drawbacks. Their whole purpose is to streamline the design process. They don't set out to make things harder for you.
Without website design tools, creating a website would take much longer.
We suggest you leverage web design software apps for this process. Below, we'll review ten web developer design tools you should consider.
The ultimate list of the most popular website design tools in 2022
Selecting one web design tool is challenging as so many exist on the market. That's why we've compiled a list of the best web design software apps you can use in 2022. Let's start.
TeleportHQ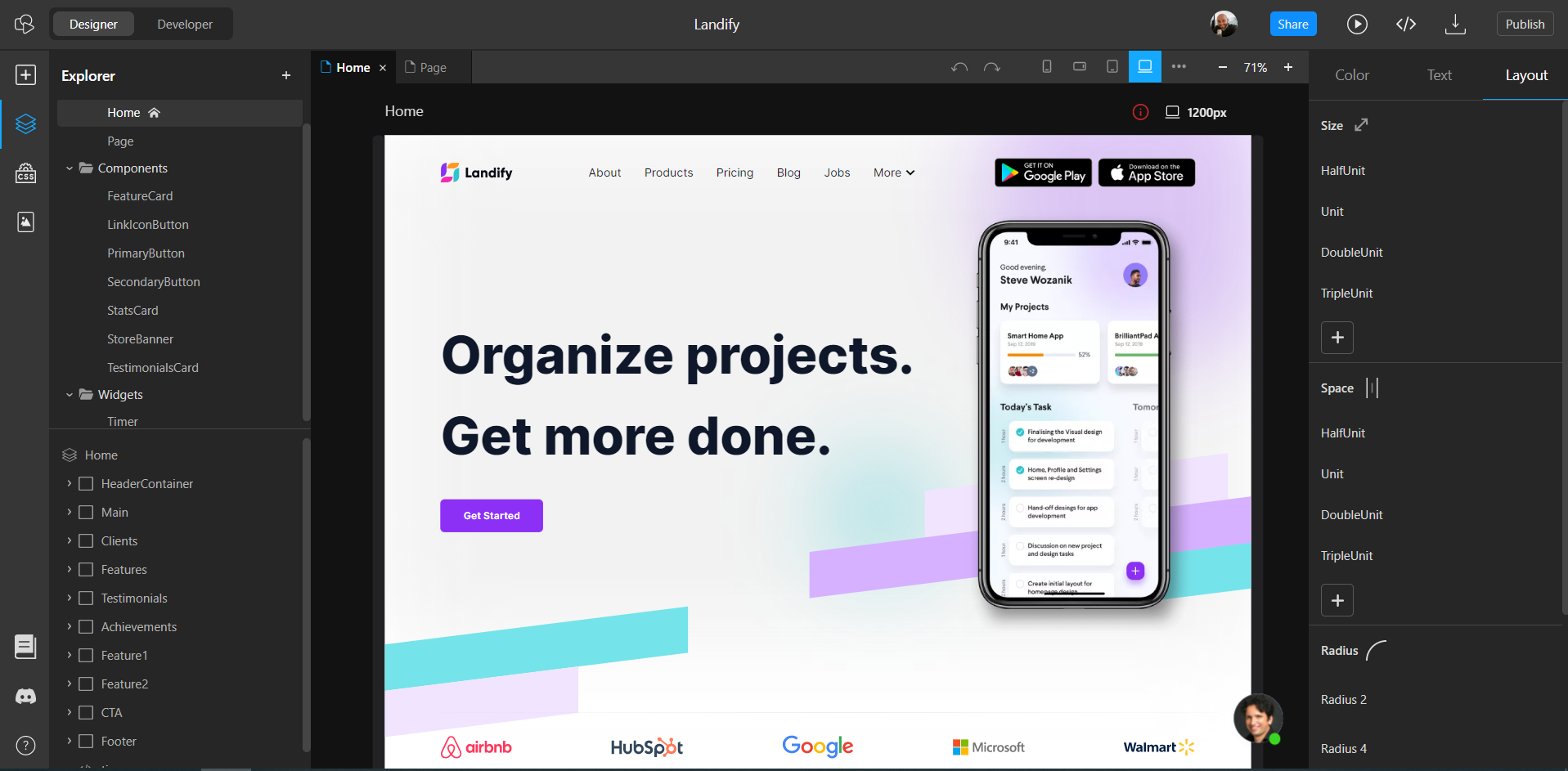 TeleportHQ is an all-in-one front-end platform web designers and developers can use as a prototyping tool. Users can leverage website templates that are fast and responsive to design their perfect website.
There is also the option to export Figma designs to HTML with TeleportHQ. We will turn your prototypes into HTML and CSS codes which you can use in any development environment.
TeleportHQ features
TeleportHQ makes the web designing process easier thanks to features like
Static website templates
Advanced customization tools
Project-sharing
Reusable components
Advanced SEO features to increase loading speed
Real-time preview of your website
TeleportHQ pricing
The TeleportHQ pricing plans are:
Free plan
Professional plan (€15/editor/month)
TeleportHQ pros
TeleportHQ stands out because of many advantages, including
One-click code generation
AI-powered features
Figma integration
One place to build, collaborate and deploy a website
Auto-complete values
Free hosting
TeleportHQ cons
The TeleportHQ disadvantages are:
Our community on GitHub is not as active as it could be
Figma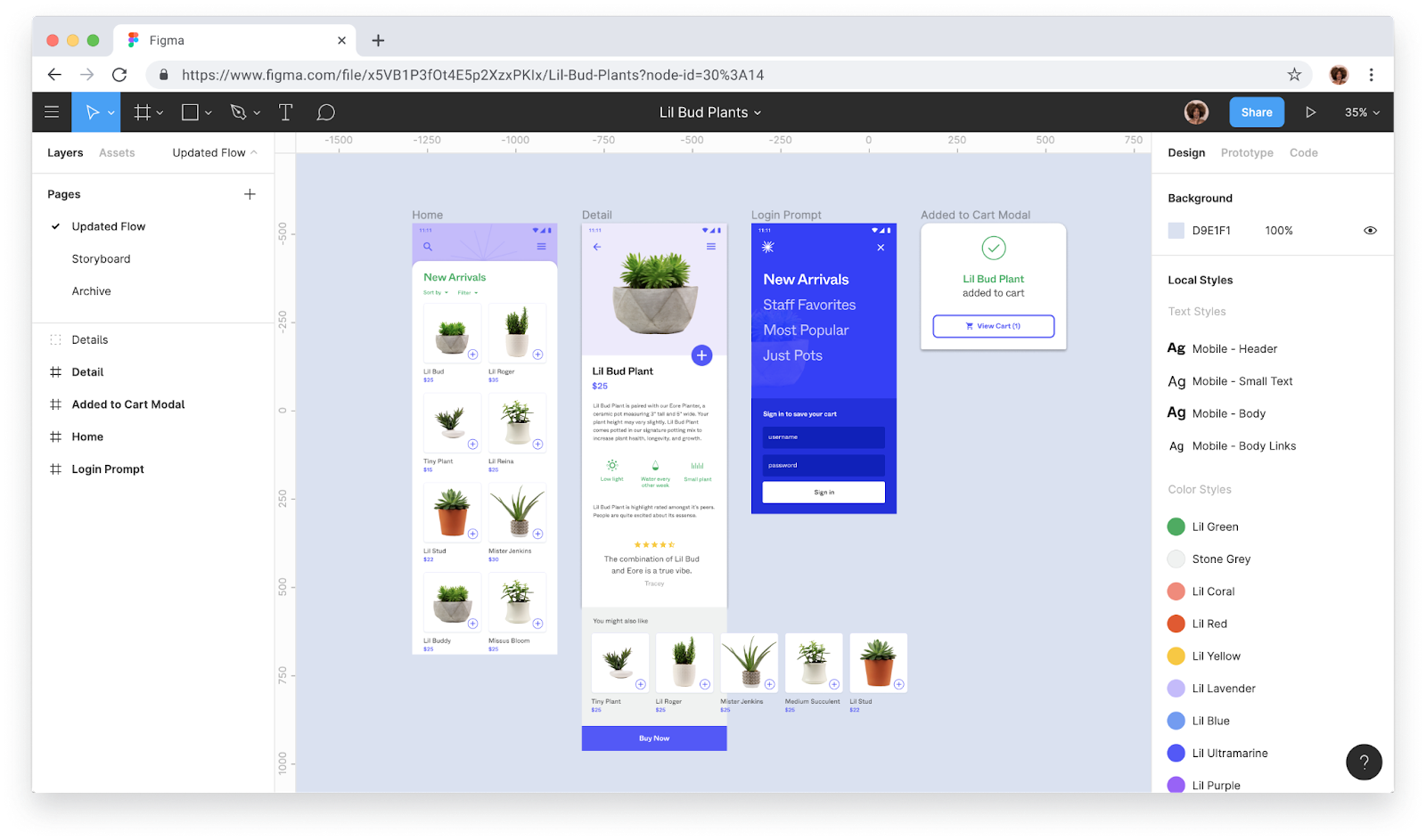 Image source: G2
Figma is a web design software app aimed at web developers and designers. It is suited for teams looking to foster easier collaboration. The tool has an intuitive and vector-based interface that simplifies web design.
Figma features
Here are the main Figma features:
Prototyping features
Asset libraries that save the styles and components relevant to your brand
Auto layout
Figma pricing
Figma provides the following pricing plans
Free plan
Professional plan ($12/editor/month)
Organization plan ($45/editor/month)
Figma pros
Here are the Figma web designer tool advantages:
Prototyping features to see how users interact with your design
Easy file sharing
Emphasis on collaboration
Figma cons
As for disadvantages, they include the following:
It relies on the internet connection
No global colors
It needs a decent graphic card and RAM to run smoothly
Canva
Image source: G2
Canva is a graphic design tool you can also use as web design software. Canva provides hundreds of website templates. You can personalize them to fit your business better.
Canva features
The Canva features that stand out are:
Conversion tools to change file types
Advanced photo editing tools
Canva pricing
Its subscription plans are:
Free plan
Pro plan (price depends on the number of users, ranging from $120 to $2.500)
Canva pros
Here are the Canva pros:
Easy to learn
Numerous resources
Templates that make on-the-fly creation possible
Canva cons
While Canva has advantages, there are some disadvantages as well:
Limited free elements
You need to upgrade your plan to use many resources
No local file storage
Crello (VistaCreate)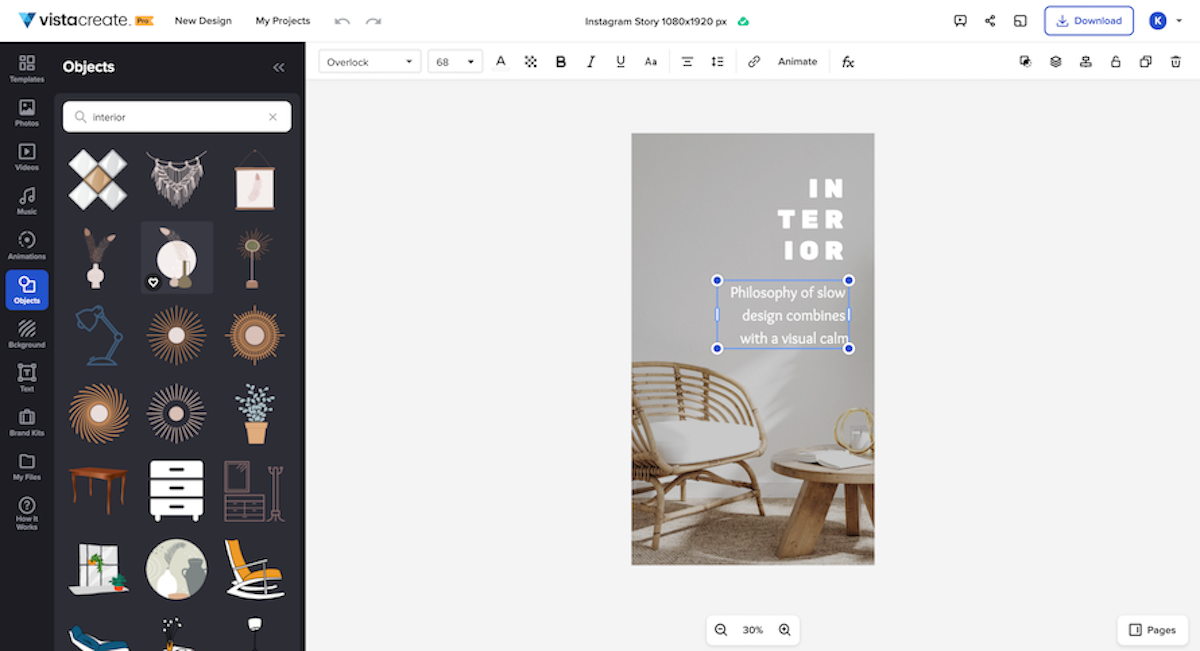 Image source: G2
Crello is a web design tool that helps you create eye-catching website designs. It has hundreds of templates, fonts, and stock images. It makes the design process more manageable.
Crello features
Here are the essential Crello web design features:
Image background eraser
Photo editing tools
Import and export options
Crello pricing
Crello offers two pricing plans:
Starter (free version)
Pro plan ($10/month)
Crello pros
Here are the Crello advantages:
Animated templates
Easy to master
Vast library of digital assets
Crello cons
Users highlight the following downsides of Crello:
Migration difficulties
Needs more interactive elements
InVision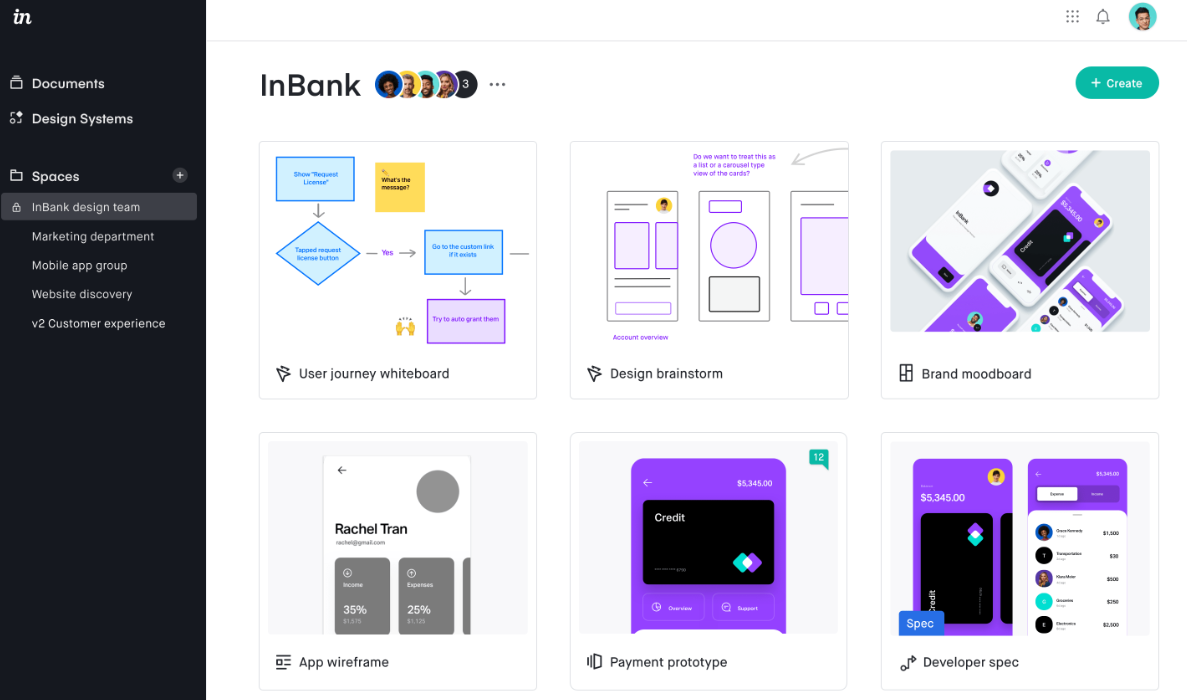 Image source: G2
InVision is a web design software platform famous for its cloud-based prototype feature. You can design web pages without code to see how they look to a casual visitor. InVision lets you do the user testing yourself.
InVision features
Here are the main features that you can leverage:
Advanced prototyping tools
Many collaboration capabilities
Intuitive animation options
InVision pricing
Three pricing plans are available with InVision:
Free plan
Pro plan ($7.95/user/month)
Enterprise plan (custom pricing)
InVision pros
These pros make InVision stand out:
Cloud-based collaborative prototyping
High-fidelity mockup
InVision cons
Before choosing InVision, you should consider its cons:
Customer support response issues
Occasional issues when saving files
Sketch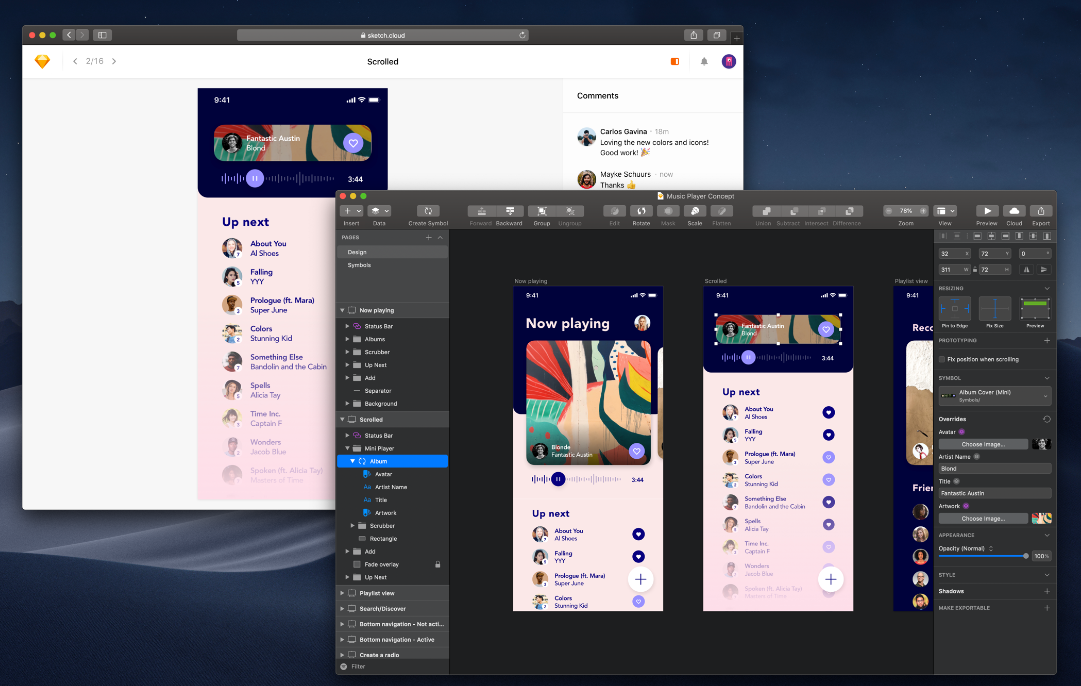 Image source: G2
Sketch is a web design tool that simplifies the process of creating mockups. Web designers opt for this tool because of its intuitive interface. There is no steep learning curve that comes with some other tools.
Sketch features
The Sketch advanced features are:
Flexible vector editing
A personalized design system to store your creations
Over 700 extensions that enable you to spot issues
Sketch pricing
Subscription plans include:
Standard plan ($9/editor/month)
Business (custom pricing)
Sketch pros
Sketch is on our list for the following reasons:
Beginner-friendly
Strong community support
Has a variety of plugins to facilitate the design process
Sketch cons
Bear in mind the Sketch disadvantages:
You can use it on Mac only
Basic image editing features
No repeat grid
FluidUI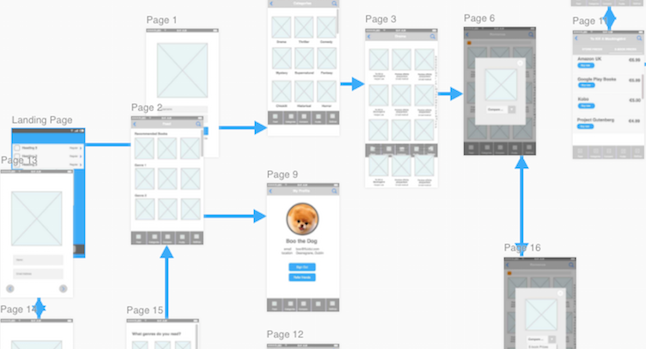 Image source: G2
FluidUI is a website design software platform for prototyping and designing user interfaces. The tool enables you to produce web and mobile prototypes for iOS, Android, and web platforms.
FluidUI features
Users praise these three features:
Wireframes
Prototyping
Built-in libraries
FluidUI pricing
FluidUI lets you choose from three pricing plans:
Solo plan ($8.25/month)
Pro plan ($19.08/month)
Team plan ($41.58/month)
FluidUI pros
The FluidUI pros are:
User interface design
Easy to use
Quick prototyping
FluidUI cons
Bear in mind the tools cons as well:
Limited features with free trial
Uploading multiple images is not supported
Adobe XD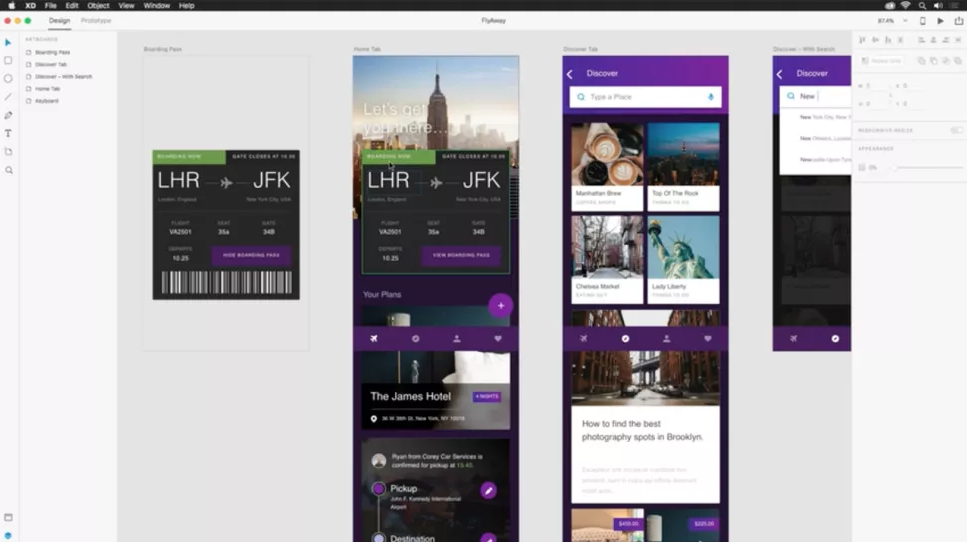 Image source: TechRadar
Adobe XD is a vector-based tool that enables web designers to create intuitive web pages and apps. Team members can build responsive websites with options like responsive resize without any line of code.
Adobe XD features
The Adobe XD advanced web design features are:
Prototyping and animation features
Huge cloud storage
Timed transitions
Adobe XD pricing
It costs $9.99 per month. Adobe XD offers a seven-day free trial if you wish to consider this tool.
Adobe XD pros
Adobe XD stands out because of these advantages:
Seamless integration with other Adobe products
Easy to use
Handles larger files
Adobe XD cons
The tool, however, needs to improve in the following areas:
No real-time collaboration option
You need advanced skills for animating UI
WebFlow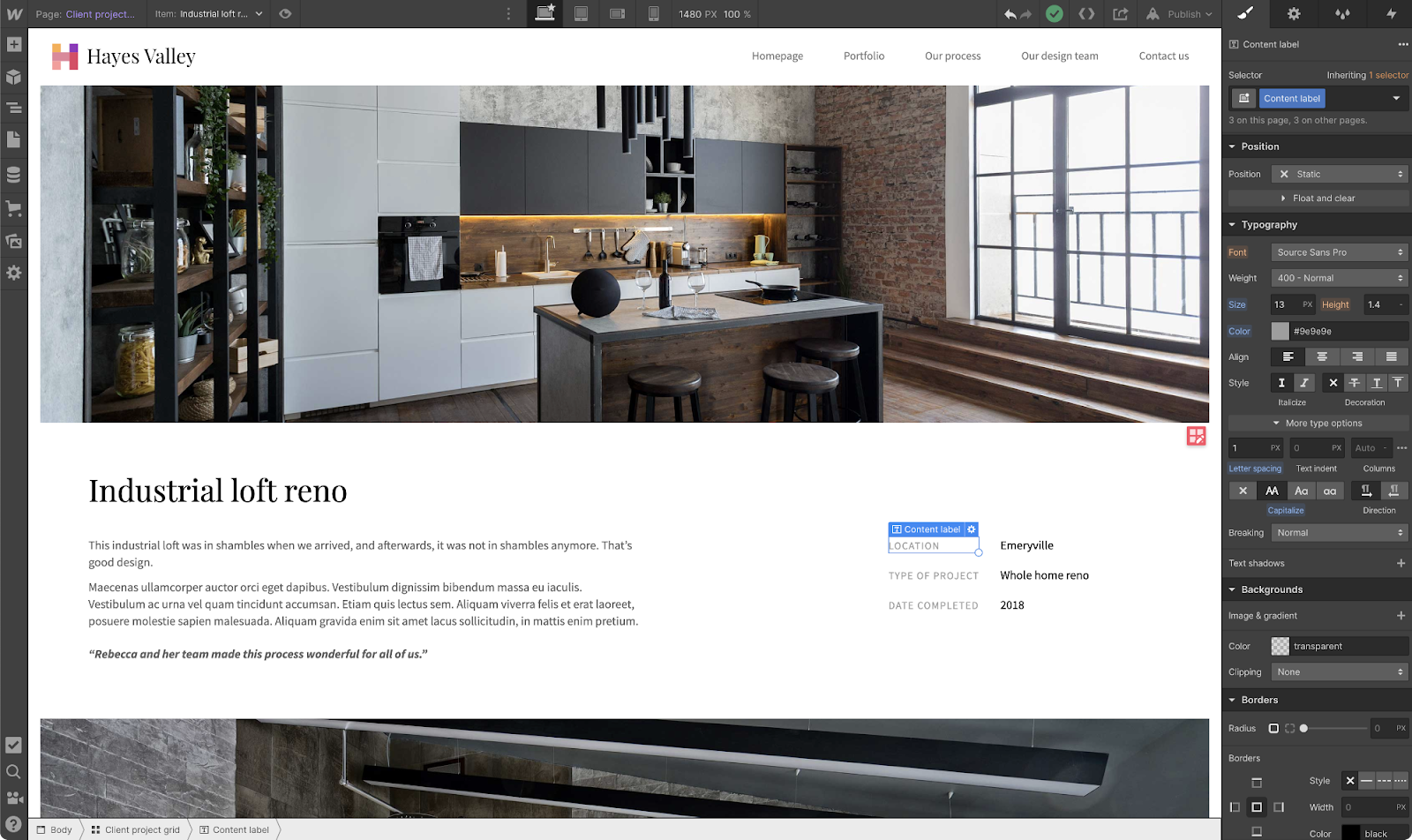 Image source: G2
WebFlow is a no-code website builder. You can use it even if you have no coding knowledge.
It has an intelligent interface that works with JavaScript, HTML, and CSS.
WebFlow features
Drag-and-drop editor
Options to create reusable symbols
Style features such as responsiveness and layout
WebFlow pricing
Five plans are available:
Starter ($0)
Basic ($12/month)
CMS ($16/month)
Business ($36/month)
Enterprise (custom pricing)
WebFlow pros
Powerful web design tools
A wide range of plans
Loads of features including templates and marketing tools
WebFlow cons
WebFlow has positive aspects, but there are some disadvantages you must consider:
Not as user-friendly as other tools like TeleportHQ
Steep learning curve
Google Web Designer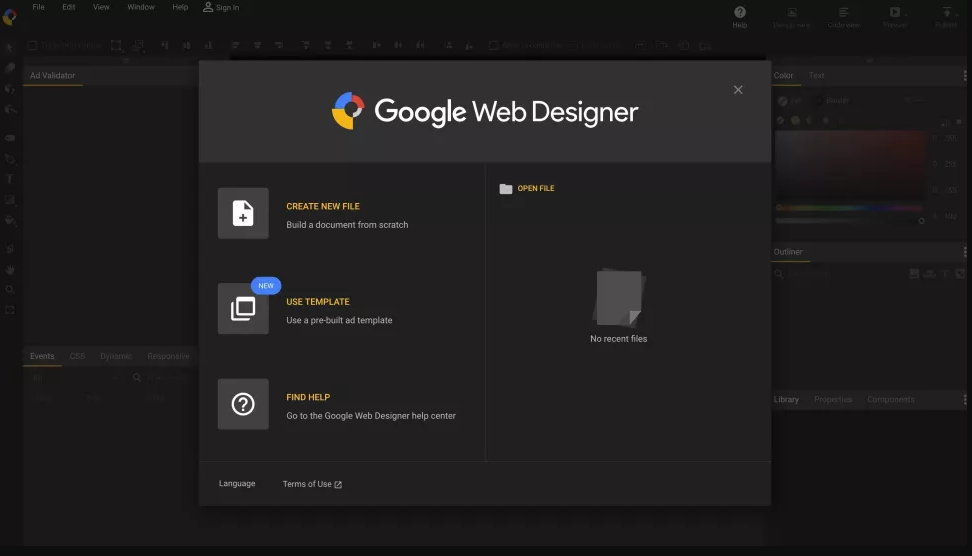 Image source: TechRadar
Google Web Designer is a web design tool that allows you to create interactive online ads and designs. Although free, Google Web Designer relies on HTML5. This coding language is easy to master regardless of your skill level.
Google Web Designer features
Users leverage it because of:
Google Web Designer pros
Designers choose this tool because of the following advantages;
Completely free
Quick prototyping
Easy to use
Google Web Designer cons
The tool is free, so you can't expect too much from it:
Limited designing features
Only available on Google Chrome
Too basic compared to other tools
Web design software: A quick recap
We went over some of the best web design software apps available. You should choose the tool that better suits your business needs. To help you, we have created a comparison table with an overview of all the tools to help you decide faster.
Website design tools: Final words
There is a growing need to develop user-friendly and responsive websites. Visitors have become more demanding, and slow websites won't get them to purchase. That is why you need web design tools to create fast, eye-catching and intuitive websites.
Choose the tool that is an all-in-one solution. If you want to code, build, design, and host your website in one place, TeleportHQ is the perfect choice for you. Use our website builder to create a design that turns heads and launch your website faster.
Start developing your website with TeleportHQ today!
Website design tools: FAQ
We have prepared the answers to some of the most burning questions regarding web design tools. You can find them below.
Which software is best for web design?
The best software for web design is the one that lets you create, design, and code your website from one dashboard. That solution is TeleportHQ which you can use to design stunning websites in just a few clicks.
What software do graphic designers use?
Graphic designers use software that enables them to show their creative side. Most of them use different tools, such as Canva, Photoshop, or Illustrator, depending on their features.
Can I make a website for free?
Yes, it is possible to build a website for free. Website builders like TeleportHQ offer a free plan or free trial. It means you can launch a website without spending a cent.
What do I need to design a website?
Designing a website is not an easy feat. It can be easier if you use a web design software app like TeleportHQ. Our platform offers numerous features like an AI website builder and pre-made templates to make the website designing process easier.
What is the most important thing in website design?
It is important always to consider the following elements:
Navigation
Content
Visual design
User-friendliness
Responsiveness
That is how you can create a stunning website.