Ecommerce is a really big thing right now.
It was on a continuous rise in the last decade, but when the pandemic started, many other customers joined the trend of online buying. Social commerce became popular as well, with platforms such as Instagram implementing new shopping features just to keep the users on the same platform.
Even if the ecommerce growth trend is starting to stabilize, the sales are still huge, and customers' expectations remain the same. They want more from brands for a complete pleasant shopping experience: speed, personalization, and quality.
In other words, businesses need to invest in creative, omnichannel features to convert shoppers into long-lasting customers.
But how can online retailers keep up with all the demands?
They can switch to headless commerce.
Headless commerce offers you the possibility to give your customers great shopping experiences without design or development constraints—all with the help of headless storefront technology.
What is Headless Commerce?

Headless commerce is used for ecommerce websites to separate your store's front-end from the back-end. So, "head" refers to the front-end part—text colors, typography, images, tables, buttons, etc. You can decouple the front-end from the back-end part that includes the infrastructure, the checkout, and other functionalities that ensure the website is working smoothly.
Developers can create an ecommerce solution on the back-end for all functionalities and deliver a great customer experience through front-end technology.
Let's dive deeper into the subject and also see the benefits of headless commerce and the differences between headless and traditional commerce.
How Does Headless Commerce Work?

A headless commerce platform works based on an API (application program interface), which is a connection between the front-end and back-end, establishing communication between the two in real-time with no delays when requests are made on the front-end side.
Whenever a customer interacts with your storefront, the API sends the request to the back-end. They don't see what happens "in the back," just the interface that shows them the products.
Depending on your business needs, you can use a headless storefront connected to different backend systems, such as content management systems (CMS), digital experience platform (DXP), progressive web app (PWA), or a customer relationship management (CRM).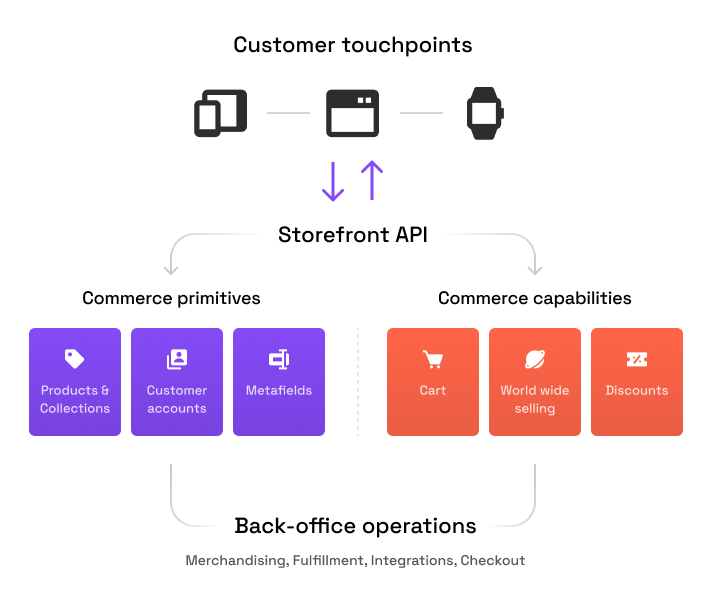 The Difference Between Headless and Traditional Commerce

Headless commerce architecture offers more flexibility and tools for all merchants compared to traditional ecommerce platforms, also known as monolithic platforms.
The biggest difference between the two is that headless commerce allows the separation between the front-end and back-end. Developers can make changes to one of them without affecting the other. This saves them a lot of time, but it also takes off the pressure of delivering things fast, offering customers only great outcomes.
Let's see some other major differences.
Traditional ecommerce

A monolithic platform like this is more rigid, and it doesn't allow much flexibility for developers or personalization for each customer.
But it also has a great advantage.
The IT department has complete control over the platform, which is a great thing when the front-end part needs deep customization that looks the same for everyone. It also works well if your company has only a handful of systems that need to be plugged into the front-end.
The downside of a traditional ecommerce platform is that it has a slow go-to market implementation period, and the development prices can go really high.
It can also be difficult to integrate new systems into a traditional ecommerce platform.
Headless commerce

For businesses using traditional ecommerce, the front-end and the back-end are deeply connected as one. While this is great for small system integrations and for a direct and unique approach on the front-end side, it may have its limitations.
For this reason, businesses are changing to a MACH approach. MACH stands for microservices, API-first, cloud-native SaaS, and headless.
MACH architecture is the answer for all the businesses that need commerce capabilities on an advanced level.
A headless commerce platform works on APIs. It can make use of API performances to deliver a personalized front-end with ease and integrate complex ecommerce needs at the same time.
The most popular use case is for a brand's CMS to send content to the front-end instead of its commerce platform. You may change on-site content without having to go via your commerce back-end.
D. What Are the Benefits of Headless Commerce for Your Ecommerce Site?

The separation of the headless commerce front-end from the back-end gives businesses much more flexibility to build flawless customer experiences. With this storefront technology, brands can make great use of personalization to attract their clients.
Let's see other benefits headless commerce can offer you.
Higher personalization

Personalization is a big plus when it comes to ecommerce.
Online privacy is a priority for shoppers, but they are still willing to share information about them with reliable sources in exchange for better personalization and possibly lower prices.
And with headless commerce, brands can easily store data about customers to serve them tailored experiences on all devices. And with the cookiepocalypse coming, this is a thought you should definitely bear in mind.
For example, if a customer creates an account on your ecommerce website, you can continue to offer them tailored experiences even if they continue shopping on a different device.
When shoppers have a highly individualized shopping experience, they are likely to spend more than anticipated. And come back for more.
Going headless gives your business the flexibility it needs to keep up with clients' demands and comply with their privacy concerns. You can easily offer them the possibility to save their preferred items or items in a shopping card cross-device, recommendations based on their activity on your platform, and other actions to create a feeling of familiarity.
Faster time for implementation

With headless commerce solutions, the work that will appear on the front-end, meaning for the customers, can be completed independently of back-end operations and vice versa.
This gives front-end and back-end developers a great advantage and the possibility to work separately from each other.
Thanks to this headless technology, the time between implementing and launching the ecommerce storefront is reduced significantly.
Easiness in scaling

With APIs, headless ecommerce open source allows integration of all of your existing systems we mentioned earlier.
It's also a very good idea to use headless storefronts as it offers security when it comes to changes in technology.
Trends are changing, and sometimes your business has to move along with them. Headless technologies help you quickly adjust your front-end to the back-end without building everything from scratch.
Increased flexibility for developers

Headless commerce allows businesses to choose both the ecommerce platform suitable for their online store and the front-end solution (CMS, PWA, etc.).
Moreover, developers can choose the programming language they prefer, as headless technology is flexible in this area too.
The flexibility headless storefronts offer developers go further than this. They can test new technologies by decoupling the front-end from the back-end, allowing them space to create and innovate without affecting the back-end operations.
Fast websites

Besides personalization, online shopping relies on speed. The fastest the page loads, the longest your clients will stay on your website, browsing.
According to Google, If the page takes more than three seconds to load, your customers will start to bounce.
Moreover, your website speed is a crucial factor for ranking high on search engines.
Headless commerce can help you with this, too, because it delivers the content anywhere via APIs. This method guarantees a faster delivery compared to traditional ecommerce platforms.
Easy omnichannel delivery

Your customers can be in more places than one. Even the same customer can be in more places than one.
This means you have to consider a multi-channel approach to reach them where they are.
With headless commerce, you can modify your front-end fast, without damaging the backend. This means you can share your storefront content across multiple channels, whether we talk about mobile apps or other marketplaces.
For example, you can use headless platforms and be at the same time on marketplaces and social media channels that allow direct shopping but also in any other place where you can add HTML with buttons that redirect customers to your store.
You can even expand the places you use headless commerce storefronts on devices such as smart mirrors, smartwatches, or progressive web apps.
All of this is attainable because, with headless commerce, you can turn any customer touchpoint into a possible sale.
Loyalty towards brands

Loyalty towards brands is a difficult thing to achieve or maintain. And it becomes even more challenging with all the brands that want to offer the best to keep their customers happy.
But you should know that with increased personalization, customers will be pleased with the services you offer and will turn into recurring customers, which turns into loyalty to your brand.
You can have constant surefire sales from recurring customers just by implementing a headless commerce architecture. This and a custom-built experience.
E. Is Headless Commerce a Proper Choice for You?

It depends. And we'll see why.
A headless architecture is not necessarily a good choice for every ecommerce store. If your business is built on a monolithic architecture and it performs well, and you and your clients are satisfied with that system, maybe you should stick with it, especially if you own a small business that doesn't require anything else.
However, if you want to achieve something different and, after careful analysis, you see that a traditional storefront is not a good fit anymore, you should switch to a headless storefront.
How do you know when it's time for a change?
If you're looking to increase personalization on the customer side (i.e., the front-end) while connecting it with a flexible back-end, then you know headless commerce is for you.
This change will help you also if you're thinking about expanding your business. A headless commerce guarantees scalability whenever you wish to integrate or change the already integrated systems. A thing that could go slower with a traditional storefront.
Other signs that you should consider headless commerce front-end architecture:
Front-end and back-end changes can't be done at the same time, and this slows down your work.
You can't offer what your clients need in terms of a customized shopping experience.
Your mobile app is outdated.
You can't offer the same experience cross-platform.
Before thinking about going headless, you should consider the costs as well. A big project can be very expensive, with additional annual maintenance and other possible required tools to increase the level of customization.
Now, if you feel like you lean more towards a headless ecommerce storefront, let's see which are your first steps for implementing it.
F. How to Get Started with Headless Commerce
Once you've decided to rely on headless storefront technology, you can choose between building everything yourself or using a platform that has to offer a ready-made headless architecture.
This again depends on a key aspect: does your already existing business allow you to add APIs fast and easy? This is possible if you own a small business, but if we're talking about mid-level or enterprises, you should consider switching to a SaaS (software as a service) solution, which offers much more flexibility for all your future plans.
The next step is to pick a CMS, especially if you're planning to serve multi-channel content. A CMS helps you create specific content for each platform to facilitate the establishment of a connection between you and your customers.
As an alternative, you can go with an open-source headless system, but it will require more work from on part compared to a SaaS.
Then, all you have to do is connect the APIs to your headless CMS. This will couple the front-end to the back-end.
G. Headless Commerce Platforms to Consider

Since we talked about platforms that already offer you a headless commerce architecture, here are a few choices that could get you started.
Shopify

Shopify is a complete solution for your headless commerce storefront. It will also help you with APIs if you already have a store on Shopify and decide to switch to a headless architecture.
BigCommerce

If you choose BigCommerce, you can integrate anything from React.js to a CMS in order to have complex commerce results with a great front-end for your customers.
Core dna

Core dna is a digital experience platform (DXP) integrated with everything you need for your ecommerce store, including web content management functionality and APIs.
Conclusion

Whenever you feel like your ecommerce store is ready for a big change that will satisfy your customers' needs for a customized shopping experience, you can switch to a headless commerce architecture. You've seen its great benefits and shortcomings as well, so you're definitely ready to make a decision.
If that's the case, keep in mind that TeleportHQ is a low-code platform packed with features, templates, and other great functionalities ready to help you create a powerful front-end for top-notch customer experiences.